Truly Heartbreaking: Bullied Teen Who Documented Her Torment On YouTube Found Dead, Suspected Suicide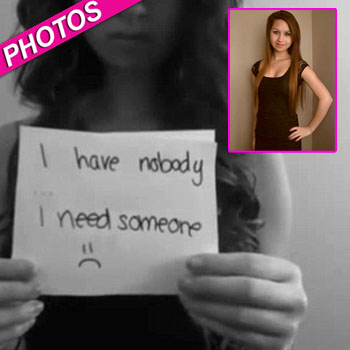 Another case of bullying and teen angst has ended in tragedy.
Amanda Todd, a beautiful Canadian teen who documented her torment at the hands of online bullies, was found dead Wednesday and authorities suspect the death was a suicide.
Last month the 15-year-old 10th grader at Coquitlam Basic Alternative Education school posted a nine-minute YouTube video in which she, through a series of flashcards, admitted she'd previously tried to kill herself, was on anti-depressant medication, and felt deep and vivid feelings of loneliness and abandonment.
Article continues below advertisement
"Every day I think why am I still here?" she said on the notecards. "I have nobody. I need someone."
Amanda expressed her angst about the negativity she was bombarded with online after an incident in which she flashed her breasts on a webcam, writing, "I can never get that photo back."
After she changed schools to escape the stigma from the traumatic incident, another one occurred in which she was dating a boy who already had a girlfriend, only to be publicly beaten.
Her mother Carol told The Vancouver Sun in a Tweet: "I think the video should be shared and used as an anti-bullying tool. That is what my daughter would have wanted."
Coquitlam principal Paul McNaughton told the Vancouver Sun Amanda's "is a very sad case. I can tell you we feel we tried everything we could to help her when she came to us."
The story continues to resonate in cyberspace, as a Facebook page set up as a memorial had received more than 2,500 "likes" as of Friday.