Exclusive
Teresa Giudice's Daughter Being Bullied At School Over Her Mom's Housewives Fame, Says Source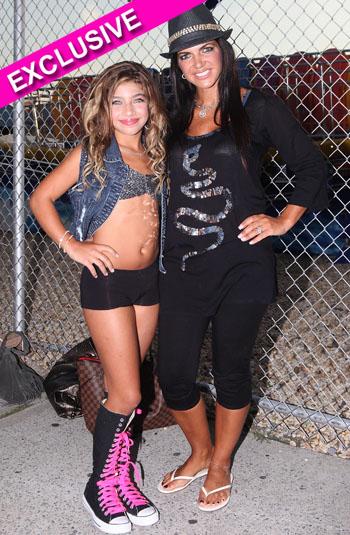 Article continues below advertisement
Heading into her fifth season on the hit Bravo show, the insider says Teresa's been urged to consider ending her 15 minutes of fame for the sake of her family, but Teresa just can't give it up.
"Teresa doesn't care about anything but the fame," the source said.
"The show has been greatly effecting her daughter Gia at school. She's being teased by the other kids and Teresa even had to go to the school to meet with teachers about it."
But the source says Teresa won't give up the notoriety and satisfaction she gets from being on the show.
"If your daughter's happiness and safety isn't enough reason to get off the show, then I don't know what is," the source said.
"It's really sad."
Meanwhile, Gia has her own Twitter and Tumblr accounts where she sometimes gets mixed up in her mom's TV drama — often writing about the "haters" and dissing her own aunt, Melissa Gorga.
Article continues below advertisement
"What is your favorite song by your Zia Melissa?" a fan asked.
"Not to be rude but I don't have one and I don't listen to her songs!" Gia replied via Tumblr on October 2.
Another fan stated to Gia, "no u got it mixxed sic up you got a handful of people who love your mom and a lot more people who hate her."
To which Gia was quick to defend her mother writing, "U got it messed up out of all the housewives my mom has the most followers and out of all the kids I have the most followers.