Kathy Wakile Slams Teresa Giudice For Knocking Her Dead Father During Reunion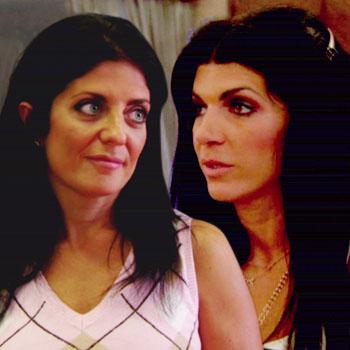 By Adam S. Levy - RadarOnline.com Staff Writer
Teresa Giudice clearly stepped into a land mine on part one of The Real Housewives of New Jersey's reunion when she slighted the late father of her cousins, sisters Rosie Pierri and Kathy Wakile, the latter of whom addressees the underhanded dig in a new Bravo blog.
Listen! 'RHOP' star Wendy Osefo breaks down the "most intense fight in the show's history" in under 2 minutes.
Article continues below advertisement
As previously reported, Teresa claimed that HER father actually provided more of a presence in their lives than their own, sending Rosie into a backstage rampage in which she convincingly threatened to rip Teresa's "f***ing head off" if she continued running her mouth, adding she'd be fine doing time for her actions.
Kathy, choosing the pen over the sword, took to her blog to air out her grievance with Teresa, who might as well have been called Lucifer the way she was received by the other housewives at the vitriolic reunion.
Kathy wrote that Teresa, in an effort to deflect her own problems, "has attacked the most important relationships in my life -- my sister Rosie, made comments about … my deceased father."
Kathy acknowledges she and Teresa's father shared "a respectful relationship, but make no mistake, the relationship of an uncle and a niece is nothing like that of a father and daughter.
"How dare Teresa speculate on the relationship I had with my father, and the type of father he was to me and my siblings. That statement really sent me over the edge, as it did for Rosie."
Article continues below advertisement
Kathy wrote her immigrant father, who was "partially handicapped … worked selflessly to make a life and provide for his five children," calling him "an honorable man."
"I will not let anyone disrespect his reputation or his memory," Kathy wrote, before discussing the pain of watching her father's final seven years battling leukemia, and then lung cancer, as well.
Noting that Rosie lived with her parents during this troubling time, Kathy wrote that "until you live with the pain of watching a loved one, especially a powerhouse like your father, suffer so severely, you can't know what the pain feels like."
Kathy added that "even though it has been almost ten years, the wound will never heal" and that "there's not a day that goes by that we don't think of him and miss him."
She wrapped up saying, "When Teresa's insinuations about my father's love for us, his own children, came out, that's when she hurt Rosie and me the most," which brought them both "to a very bad place."
RELATED STORIES:
Joe Giudice's Court Date In Driver's License Debacle Delayed