Teresa Giudice's Cousin Threatens To Rip Her Head Off On Real Housewives of New Jersey Reunion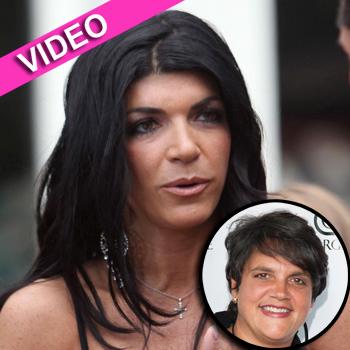 As expected, Teresa Giudice was the center of attention -- all of it negative -- during the first of three reunion episodes for this season's edition of The Real Housewives of New Jersey, and we've got all the highlights for you right here on RadarOnline.com.
While it was anyone's guess who would blow up toward Teresa first, semi-regular cast member Rosie Pierri (who is Kathy Wakile's sister and Teresa's cousin) took the honors after she overheard Teresa insulting their late father, saying that HER father was actually more of a presence in their lives than their own.
Article continues below advertisement
Kathy pointed a finger at Teresa, telling her, "You have no right to bring up my father!"
The normally-affable Rosie, who was backstage at the taping at the Borgata in Atlantic City, went on a loud rampage, threatening to cut her cousin's tongue out if she continued with the line of discussion.
"I mean it! My father's untouchable! I'll rip her f***ing head off," Rosie yelled, adding she'd be fine going to jail for her actions.
Following the show, Rosie took to Twitter to address her televised meltdown.
Watch the video on RadarOnline.com
"I know some of u may be disappointed in my behavior however, MY DAD was & will ALWAYS be my SUPERMAN! I WILL PROTECT HIS HONOR ALWAYS! Nite," she wrote. "BTW ..Tre is the one who always seems to bring up the parents first not us Pay attention !!!"
In another uncomfortably (entertaining) moment, resident tough cookie Caroline Manzo lashed out at Teresa after she tried to interject herself into the discussion following an emotional spot documenting Jacqueline Laurita and her 3-year-old son's autism diagnosis.
Article continues below advertisement
Teresa, clad in a garish green gown, simply couldn't let the moment pass without a comment about how her daughter Audriana and Jacqueline's son Nicholas used to be playdates.
Manzo shot back, "Listen, you and your f***ing Christmas pageant dress, sit back and shut the f*** up, we're talking about this kid."
Anything can happen when the second installment of the reunion airs on Bravo Sunday at 10/9c.
RELATED STORIES: