Jacqueline Laurita Hints At Teresa Giudice Not Being Supportive Of Her Son's Autism Diagnosis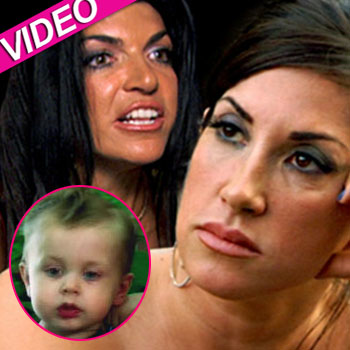 Article continues below advertisement
"At the time we didn't have a diagnosis, things were happening and we didn't have the actual diagnosis. I didn't want to bring it out on the show without a diagnosis and treatment plan in place and have them speculate on what issues he has or doesn't have. It's something that was personal to our family that we needed to get a handle on it first," Laurita told the Anderson Live host.
When asked if all the women had been supportive she replied candidly: "Most of them, yes."
The hard-hitting CNN host then directly asked if "Teresa (Giudice) had not been supportive?" But at that point Jacqueline not so subtly evaded the question about her longtime nemesis by asking for coffee!
"Really? I find that hard. Is that really true?" Asked a bemused Cooper.
Earlier in the interview, the reality star was more willing to divulge details of Nicolas' condition. "He didn't get the diagnosis until April. We started seeing signs really from 15 months, more towards 18 months to 2 years is when we really started to notice he was regressing," she said.
Article continues below advertisement
"He wasn't responding to his name, he wasn't following my finger when I point to an object, he wasn't following a simple command like, 'Bring mommy the ball.' The most heart wrenching for me was he stopped saying I love you. He was singing songs, then he stopped singing songs. He was eating with utensils, then he stopped eating with utensils. We just saw a regression with him.
"Yeah, everything kind of gradually happens and some things you're thinking, 'Oh they all develop differently maybe he'll catch up,'" she explained. "But around 18 months or so I talked to a family friend at a party who introduced me to the Autism Speaks website and I went on there and checked over all the milestones and did the checklist and kind of knew at that point what we were dealing with.
"I immediately just went on the computer and researched everything I could possibly find, we are just trying to educate ourselves on all the information out there," Jacqueline revealed.
Anderson Live is a nationally syndicated talk show, visit AndersonCooper.com for local listings. The full interview airs on Tuesday.
radar_embed service=5min.com src=" http://pshared.5min.com/Scripts/PlayerSeed.js?sid=1126&width=486&height=412&playList=517708488&sequential=1&shuffle=0"