Exclusive
Jacqueline Laurita Refuses To Trash Teresa Giudice After Hubby Joe Calls Her The 'C-Word'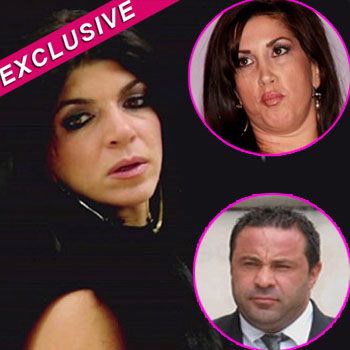 Article continues below advertisement
Joe answers the call "Hi baby," and when Teresa investigates what he is doing, Joe tells the caller, "Here comes my bitch wife…she's such a c***."
Jacqueline and Teresa have been battling all season, and Jacqueline even has said that their friendship is over, but these comments by Joe are so low that she wouldn't even dignify them with a catty response.
"I wouldn't want to comment on something that is so personal, sensitive and hurtful to Teresa and her family," Jacqueline told Fox News contributor Tom Murro.
Teresa was aghast at her husband's vile remarks and said that she couldn't even defend him. "I'm hurt and disappointed by him," she said after the incident.
While there is no love lost between Teresa and Jacqueline it seems like they both know that what Joe said to his wife was pretty low.
RELATED STORIES:
Teresa & Joe Giudice Get Frisky In A Vineyard
Teresa Giudice 'Humiliated' Over C-Word Bomb, Says 'If Joe's Cheating, I Will Totally Leave Him'