NJ Housewife Jacqueline Laurita Opens Up About Son's Autism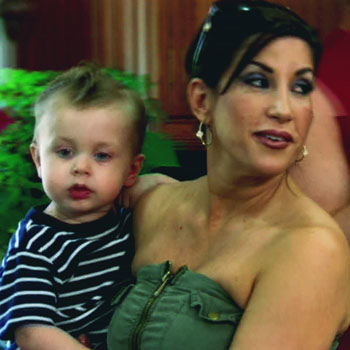 The Real Housewives of New Jersey's Jacqueline and Chris Laurita are breaking their silence about son Nicholas' autism diagnosis.
The parents said they picked up on cues in the 3-year-old's personality when he was 18 months old, like Nicolas not answering to his name or noticing others.
"We had no idea what was going on," Jacqueline said. "The most telling factor is when he wouldn't tell me 'I love you.'"
Article continues below advertisement
Upon receiving the diagnosis, Chris said the couple didn't want to believe that it was true.
"You never want to think that your child isn't perfectly healthy," he said.
Jacqueline says she and her family are blessed to have the resources to deal with the situation.
"Everything is so expensive and time consuming," the reality star says. "We're lucky we can devote ourselves to this … I don't know how most people do it."
Jacqueline said she's seen subtle changes in the child's temperament.
"He's been surprising us with little words here and there: everything he says is a celebration," the 42-year-old mother-of-three said. "I worry about him being independent when he's older. I spend all my time researching what we can do for him."
Jacqueline said she concealed the condition from the show as cameras rolled on its' fourth season last year, but would be open to chronicling what's going on if she signs on for a fifth year.