Jenny McCarthy Slams Jim Carrey 'He Turned His Back on My Autistic Son'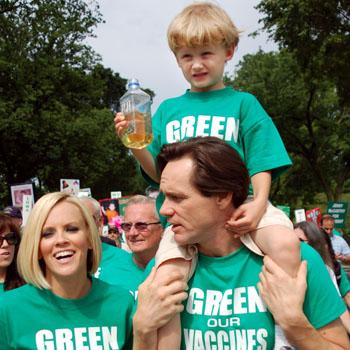 Jenny McCarthy and Jim Carrey ended their five year relationship in 2010, but the former Playboy model is still upset with him and isn't letting it go. In an interview with Howard Stern on Monday, the blonde bombshell didn't hold back, claiming her former beau has blown off her autistic son completely since their breakup.
"I've tried to ask Jim numerous times to see Evan, because my son still asks," McCarthy told Stern, going on to say that Evan tells her he misses Carrey "almost weekly."
Article continues below advertisement
Apparently, Evan is so hurt by the situation that he sees a counselor to talk about it. "I tell Evan that someday you'll cross paths, meet again. . . but it's hard. He's been in therapy. It's a process, he's working on it."
While she doesn't talk to the actor herself, McCarthy, 39 admitted she has gone through "channels" in an effort to get Carrey to interact with her son again.
"I haven't reached out directly . . . I think that sometimes people need to take a real break from each other," she explained. "But I still love him. I think you can love people from a distance and respect him. But as a mother, you just hope when you have a relationship with someone it has nothing to do with the child when you break up."
"Jim's a dark guy," Stern chimed in during their conservation.
"As you get older, Howard, you kind of get to see things more clearly," McCarthy explained about moving on from her ex love. "Hopefully you get happier over time, and I am so much happier."
The Love in the Wild host meanwhile has moved on from Carrey and has found love herself. As RadarOnline.com previously reported, McCarthy is now dating Chicago Bears linebacker Brian Urlacher.