Taking Sides! Dina Manzo Supports Teresa Giudice Despite Vicious Feud With Sister Caroline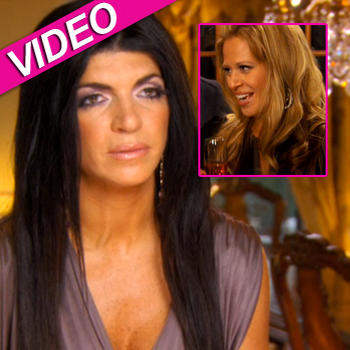 Article continues below advertisement
Now, in a sneak peek of the latest episode, Caroline's own sister Dina Manzo reappears, coming out to support Teresa at the launch of Fabellini, her new line of wine.
RadarOnline.com has a clip of the video showing fellow cast member Jacqueline Laurita questioning the timing of Dina's arrival.
"I think it's nice that Dina went there to support her," she says. "But it did seem odd to me when she stayed away from her family for so long – wasn't at her nephews' launch party, wasn't at the holiday – but at the time when it was the most heightened drama going on between Teresa and Caroline, they have gotten closer.
"I'm like: Really. Why?"
Teresa seems to offer viewers an explanation. In an apparent swipe at those cast members who have turned against her, she says: "My true friends always support me. They don't get jealous at all.
"I know I can count on Dina and she will always be there for me.
As previously reported, Teresa made a more direct attack on her fellow housewives last week in a scathing blog entry. She calls Caroline and her fellow cast mates "insane."