Exclusive
Bravo Aiming To Cast 'Teresa Giudice Allies' In New Season Of RHONJ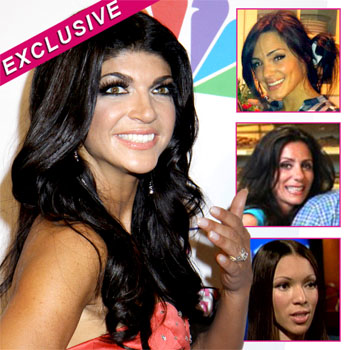 By Amber Goodhand - RadarOnline.com News Editor
It's no secret that Teresa Giudice is the most unpopular cast member on The Real Housewives of New Jersey, but RadarOnline.com has exclusively learned Bravo plans to bring on two new women for next season's show who are 'Team Teresa' to balance things out.
According to an insider, all the current cast members have been asked back for the next season and filming will begin shortly with three frontrunners vying for two new positions: Priscilla DiStasio, Gia Casey and Linda Berger.
Article continues below advertisement
"Priscilla is Teresa's new best friend and her makeup artist. She would be perfect because she's full of drama and has a mouth on her," the source said.
"And Teresa knows what she's doing. She's been making sure Priscilla will be faithful to her by featuring her in her cookbook and doing cool things with her that way if anything goes wrong, Teresa can say, 'But I was so good to you.'"
Next in line for a spot on the hit Bravo show is Linda, who the insider says is a "Teresa soldier."
"Linda is divorced with two sons and does whatever Teresa says," the source said.
"She will be the perfect puppet for Teresa to have on her side."
Finally, there's Gia, who Teresa counts as a "close friend" but the source says it's debatable.
"Gia is married to DJ Envy who hosts a morning show on Power 105 in New York and Teresa has always bragged that she is friends with Gia," the source said.
"But so far Gia has steered clear of the Bravo show, even though she's been attending Teresa's children's parties for years. How close they really are has yet to be seen."
Article continues below advertisement
Family Feud! Melissa Gorga Tears Into Teresa Giudice, 'You Don't Get To Play Victim'