Cheating! Back Stabbing! Heartlessness! Housewives Spill On (And Slam) Teresa Giudice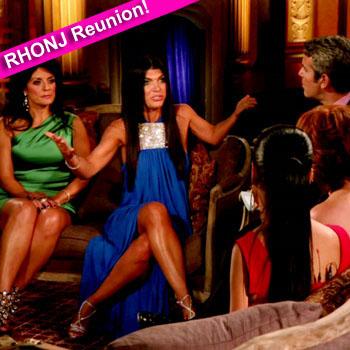 In an all new interview, the other Real Housewives of New Jersey have slammed the most unpopular cast member in the show's history, and the details aren't pretty, RadarOnline.com is reporting.
Not only has Teresa Giudice been accused to trying to set up her sister-in-law Melissa Gorga by revealing her alleged past as a stripper, new details have come out about how she has torn her family apart and allegations of how her husband, Joe, has cheated on her several times.
Article continues below advertisement
As the reunion shows kicked off last weekend, the Housewives spoke to the issue of US Weekly, and Melissa Gorga especially hinted that she has plenty still to reveal about husband's sister.
"When she stops telling lies about me, I'll stop telling the truth about her," Melissa vowed.
After "Strippergate" feelings between the Housewives became super strained and Teresa barely has a relationship with her brother Joe Gorga now – and to make matters worse she's making her parents take sides in the family feud!
Speaking about whenever Teresa, 40, sees her parents Giacinto and Antonia, Melissa,33, also said: "Every time they're together she tells them a laundry list of terrible things against us.
"They're more distant with us now. Joe feels like she's poisoned their brains. Teresa needs them so they're standing by her."
Teresa's marriage also comes under fire. In the second reunion episode, Jacqueline Laurita claims that Teresa once caught Joe having sex with a woman on his desk and insiders say that Joe's wandering eye is an "open secret".
Article continues below advertisement
"You walked in on your husband when he had someone on the desk in his office," Jacqueline told Teresa.
"Teresa and Joe are very unhappy," an insider told Us Weekly. "Joe feels tremendous pressure to give her this big, over the top life."
However Teresa furiously denied this, claiming: "We're happily married. I don't need to defend myself."
Teresa is also accused of being totally heartless. When Jacqueline admitted at the reunion that her autistic three-year-old son couldn't say "I love you" anymore the tears were flowing…everyone cried except Teresa.
Jacqueline said: "Teresa was like that all year. My son had been regressing while we were filming and I was doing a lot of crying.
"If I went to talk about my son she would quickly change the subject and start bashing her family. Despite what she's claiming on TV she wasn't there when I needed her the most."
The reunion also showed some of Teresa's most vicious behavior yet, according to the report.
Among other things Teresa slammed Caroline Manzo's daughter Lauren, 24, for her decision to get a lap band procedure.
Article continues below advertisement
"Lauren has all time in the world to work out. She took the easy way out," Teresa reportedly sniped.
And, even her seven-year-old niece Antonia wasn't spared! Mom Melissa said that when she signed her daughter to a modeling agency, Teresa said: "I heard Antonia got accepted. Yeah the ugly kids always get picked."
Melissa went on to say that Teresa is two-faced and fakes all emotion for the cameras, and that her teary reconciliation with Jacqueline was totally for show.
"That's how she filmed with me," Melissa said. "She'd be nice on camera and as soon as they were done, she'd be like 'f**king b*tch'."
And it's got so bad that Melissa has put her New Jersey mansion up for sale. She added: "I moved to this town so my kids could go to school with their cousins.
"But after this I got really scared. I don't want them around anybody who is bashing their mother."
To catch all of the drama, tune in for part two of the Real Housewives of New Jersey reunion show this Sunday night on Bravo.