Family Feud! Melissa Gorga Tears Into Teresa Giudice, 'You Don't Get To Play Victim'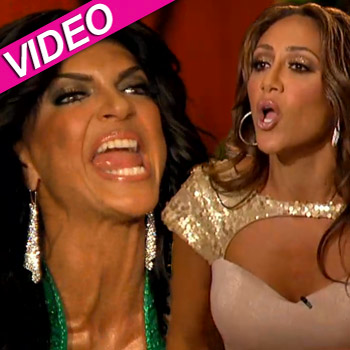 Article continues below advertisement
"This is 15 minutes of fame, you are going to wake up one day and be miserable," screeches co-star Caroline Manzo, as she blames Teresa's terrible attitude for her failed personal relationships.
"I am not going to be alone," says Giudice, desperately defending herself.
Looking so frustrated that she was almost ripping her hair out," Caroline tells her: "This is your family… I am on the outside looking in and it is so hurtful."
Next up, Teresa's estranged sister-in-law, Melissa Gorga, jumps into the ring and tells her: "You're the one that said all the negative things, how can you sit there and bash my marriage and my man? You did all season long!
"When you finally get a taste of your own medicine, you sit over there and say 'I can't breath,'" mocks Melissa.
"We have to put up with your bulls**t all season long, so guess what – you don't get to sit here and play victim! Guess who the victim is? Me. Get it straight," screams Gorga.
Article continues below advertisement
"I haven't talked to my brother in a year, that's your fault," bites back Teresa, who is well on her way to winning the title of most unpopular Housewife in franchise history.
"That's your fault, you called his wife a stripper. That's right he doesn't speak to you, who can blame him?" Spews her furious sister-in-law.
In part one of the reunion that aired last week, Teresa made fun of Caroline's weight woes by mocking her size. "Look at yourself, you have three rolls. Blubber, blubber, blubber. And with your tummy tuck. You couldn't walk for four months because you were hunched over."
Part two of the sizzling reunion special airs on Bravo on Sunday, October 7 at 10 p.m. ET/PT.
RELATED STORIES:
Ramona Singer Says Anderson Cooper 'Was Right' For Calling Teresa Giudice Out For Bullying
Teresa Giudice's Cousin Threatens To Rip Her Head Off On Real Housewives of New Jersey Reunion
Teresa Giudice Threatening To Sue Melissa Gorga For Allegedly Attacking Her
Teresa Giudice's Emotional Breakdown: I Need Help, Everyone Is Against Me & Ganging Up On Me