Teresa Giudice Accuses Melissa Gorga Of Lip Syncing, Suggests 'On Display' Was Written About Her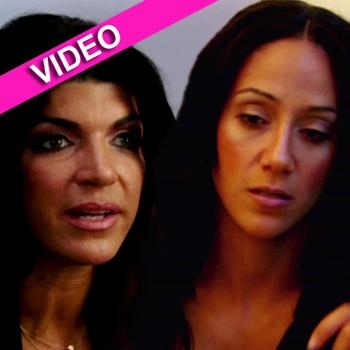 Oh no, she didn't! Teresa Giudice accused Melissa Gorga of lip syncing during a less than harmonious Part 2 of The Real Housewives of New Jersey reunion special Sunday night on Bravo, and then she claimed her first pop hit, On Display, was written about her!
When Melissa was asked about her singing career, Teresa chimed in and claimed that she always lip syncs, and she's never even heard her sing live, challenging Melissa to belt out a verse of a song just to shut Teresa up, but it didn't work.
Article continues below advertisement
"Well, I want her to sing the whole song," Teresa said. "She only sang one part."
Then, Teresa started mockingly singing Melissa's song, On Display.
"I can sing too...On display, on display...The paparazzi's comin'...I'm always on display," she sang.
Not only was Teresa unsatisfied by Melissa's short vocal performance, she then went so far as to take credit for Melissa's song, saying it was written about her!
"You wrote On Display about me!" Teresa said.
"Wait, did she just say I wrote On Display about her?!" Melissa asked in disbelief!
"Because she said the paparazzi's following me...on display," Teresa laughed, but Melissa wasn't impressed.
"Now my song that I'm proud of is about her too..."
All of the other housewives were stunned and speechless by Teresa's rants, and Caroline Manzo thinks Teresa has finally cracked.
Article continues below advertisement
"I can't believe what I'm watching," she laughed. "I'm in the Twilight Zone."
Melissa then made a shocking statement, saying that the reason she and her husband Joe Gorga are selling their home in Franklin Lakes is because of her children.
"Honestly, I don't want my kids going to school with her kids," Melissa choked out. "And I'm moving away because of that. We can afford our house ten times over."
Joe Giudice joined the women, and was immediately asked about the phone conversation he had in Napa when he called his wife a c**t and sparked cheating rumors.
"A friend of mine, a long time friend of mine. I was taking care of things back home," he said.
"If I was talking to my girlfriend, I probably would've ripped my mic off and threw it in the bushes.
"I'm probably not the only husband who calls his wife names," he continued. "That cost me a lot of money, that stupid word," referring to the jewelry that he had to buy Teresa in order to get out of the dog house.
Article continues below advertisement
Jacqueline Laurita was staying tight lipped during Teresa and Joe's explanation of the events, until Teresa turned the tables and accused Jacqueline's husband Chris of cheating on her.
"That's why you told me you don't trust him," Teresa instigated. "That's why he's not allowed to go out."
Jacqueline no longer felt the need to hold back and went on a rampage about how Joe is constantly cheating on Teresa.
"Now that you're going there, you told me that your husband cheated on you several times," Jacqueline said. "You caught him with his secretary, the babysitter. Honey, you walked in on your husband when he had someone on the desk in his office."
Both Teresa and Joe adamantly denied that there was ever cheating in their marriage.
Meanwhile, Kathy Wakile's sister Rosie joined the ladies to talk to about her coming out experience and her relationship with her sister. Although Teresa did her best to cause a rift between the sisters, saying that Kathy hated the fact that Rosie was gay, Rosie was quick to point out that Kathy has always accepted her and always wanted her to be happy. And ladies, she's still single.