Man Accused By Vigilantes Of Driving Teen To Suicide Gets Death Threats, Police Say Claims Unfounded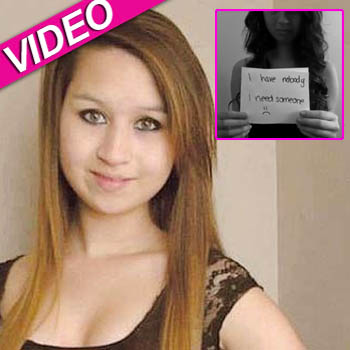 By Debbie Emery - RadarOnline.com Reporter
Canadian police are scouring through thousands of tips in connection with the heartbreaking hanging death of a Vancouver teen following the damning online message blaming a Facebook employee for driving her to suicide.
"The outpouring of support, emotion and information is literally overwhelming," said Royal Canadian Mounted Police Sgt. Peter Thiessen in a statement last night, reported the Daily.com. "The Internet and social media were central to Amanda's story and they are central to our investigation as well."
Article continues below advertisement
As RadarOnline.com previously reported, a mysterious angel of truth appeared on a YouTube video on Monday under the name of Anonymous to claim that a 30-year-old man from New Westminster, British Columbia was to blame for 15-year-old Amanda Todd taking her own life on October 10.
After the hacktivist group revealed the suspect's name, a torrent of outrage flooded social media and hate groups threatening to kill him sprouted up all over Facebook and Twitter. However, police are calling the charges "unfounded" and have criticized Anonymous for their online attack.
"One of our big challenges right now, is false information that is being spread by people who appear to be trying to use Amanda's story to do harm or make a profit," explained Thiessen.
"One unfounded allegation involved the release of information that spread quickly online identifying a man as Amanda's tormenter," the statement read, adding that rumors of her autopsy photos being released were also false.
Article continues below advertisement
The vigilante group had even gone so far as to publish the man's address online, but when reporters arrived at his house to interview him, the residents were completely the wrong people. Anonymous later admitted that they got the address wrong.
A Facebook spokeswoman told The Daily that rumors that the man worked for the social network were "absolutely not true."
Before tormented Todd committed suicide last month, she posted her own YouTube video detailing her nightmare of bullying and self-harm, holding up cards telling of disturbing interactions on live webcams that began in 7th grade.
She went on to reveal that how after flashing a man who had called her "pretty and beautiful," she got a message on Facebook a year later threatening that if she didn't put a show on for him he would show "boobs" to all her friends, family and school pals. Then one morning over Christmas she got a knock on her door at 4 a.m. from the police, telling Amanda that her photo had been sent to everyone.
"Then I got really sick… anxiety, major depression and panic disorder. Then I moved and got into drugs and alcohol," she said.