Suri Cruise Will Attend $40K A Year 'World School' To Fit Her Jet Setting Lifestyle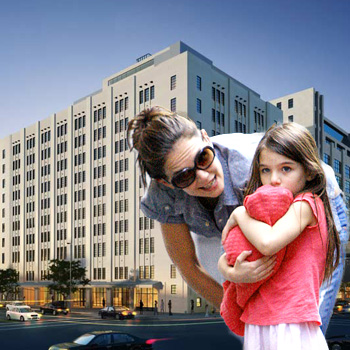 After a citywide search, Katie Holmes has enrolled daughter Suri Cruise into Avenues, a swanky New York-based school with $40,000 in annual tuition fees and campuses around the world to fit with her daughter's jet set lifestyle.
Doting Katie settled on Avenues, a 215,000-sq. foot institution, after having previously expressed strong interest in Convent of the Sacred Heart, an all-girls Catholic school Lady Gaga once attended.
Article continues below advertisement
The 6-year-old daughter of Katie and Tom Cruise will learn about reading, writing and arithmetic at the "World School," which is slated to have 20 campuses on five continents, enabling students to switch between school without disrupting their education.
In what must be a major motivating factor in choosing a school for the daughter of two A-list globe trotting celebrities, The World school curiculum enables pupils to follow their parents around the globe without being tied to regular school classes and vacation schedules.
The school's website boasts that it is better than esteemed educational institutions such as Britain's Eton: "If 'local' schools are the first step in the evolution of schooling and 'national' schools are the second step, the decades ahead are likely to bring the third step: global schools.
"Thirty years from now there will likely be a number of such organizations. Avenues plans to be the best of this new breed of educational institution - hence its subtitle: The World School."
Article continues below advertisement
"Avenues will embrace practical matters so often ignored by academic institutions," the website continues. "Students will become comfortable with a variety of life skills, including practical matters such as time management and technological competency."
Suri will be attending the school's flagship New York campus, which is just a few blocks from the apartment she lives in with mom Katie.
"Katie has eagerly been telling Suri all about the lunchrooms, basketball courts and different activities Avenues offers," an insider told Life & Style magazine. "Suri's really excited about it."