Splish-Splash! Tom Cruise And Suri Have Fun At The Happiest Place On Earth!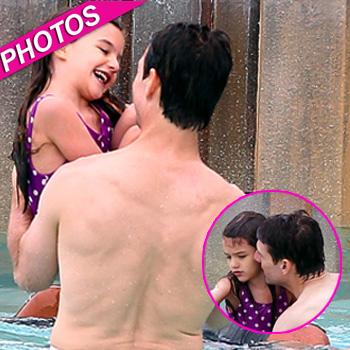 Article continues below advertisement
The 50-year-old Mission Impossible hunk, who recently wrapped shooting his latest film Oblivion, showed off his washboard abs in swimming trunks as he played around the wave pools with his sassy 6-year-old, who looked adorable in a purple polka-dot swimsuit.
Suri is clearly not afraid of water slides, hopping on a purple mat and braving the slide all by herself.
And Tom may be the biggest movie star in the world, but that didn't stop him from taking time to shake hands with his fans at the tourist friendly waterpark!