Tom Cruise 'Has Issues' With New Joaquin Phoenix 'Scientology' Movie, Claims Report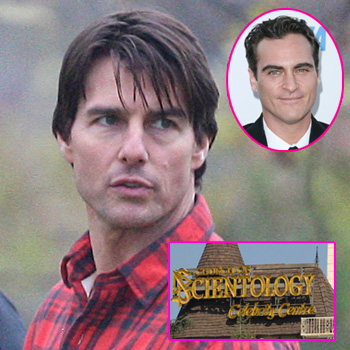 Article continues below advertisement
However, according to the New York Post, Anderson showed the movie to Cruise, a devout Scientologist, who has "issues" with it.
The Master, focuses on a mysterious, science fiction writer who founds a religion in the 1950s and many people have speculated that the main character, Lancaster Dodd, portrayed by Phillip Seymour Hoffman, is based on L. Ron Hubbard.
Former Scientologist, Marc Headley, obtained a copy of the screenplay, and told The Daily Beast, I can tell you that even if Scientology comes out with a statement that this movie is NOT about L. Ron Hubbard or Scientology, this movie is the biggest fictional middle finger ever flown their way."
The screenplay has numerous similarities to Scientology, according to Headley, who belonged to Scientology's elite Sea Org group.
Similarities that have been remarked upon include:
Dodd creates a new contract for members of The Cause, which entails them signing up for 3 billions years of service -- Scientologist Sea Org members are required to sign a billion-year contract
One of Dodd's followers refers to dissenters of The Cause as "squirrels" -- L. Ron Hubabrd referred to naysayers of Scientology as squirrels.
Article continues below advertisement
Dodd writes a book called The Cause about addressing harmful past memories that affect one in their current life -- L. Ron Hubbard wrote Dianetics, which discusses with dealing with painful memories.
Dodd believes that prenatal experiences can cause one to behave irrationally and erasing these can make one happier. L. Ron Hubbard made the same argument in Dianetics.
The Master will be released in October, and there is already Academy Award buzz surrounding the project as it's Joaquin Phoenix's return to the silver screen for the first time in two years.