Exclusive
Kristen Stewart Is 'A Bag Of Nerves' As Robert Pattinson Gets Ready For TV Interview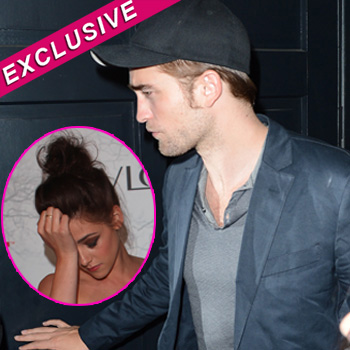 Article continues below advertisement
"Kristin is very, very nervous about Robert's interview with Jon Stewart on Monday," a source close to the Twilight star revealed.
"She's confident that Robert, who has always been such a private person about his personal life, will keep quiet over the cheating scandal.
"But she does have some concerns that Stewart might poke fun at the situation in an attempt to get Robert to open up.
"While she has a sense of humor, this isn't something she wants joked about. Kristen is hurting and doesn't want her heartbreakpoked fun at on TV.
"She's crossing her fingers that Jon doesn't go there and instead concentrates on promoting Robert's new movie Cosmopolis," the insider said.
As RadarOnline.com previously reported, Rob, 26, is considering reconciling with Kristen and is no longer angry at the young starlet for cheating on him.
"Rob was super angry for the first couple of weeks. Angry at Kristen for ruining what they had, angry at her for the public embarrassment, angry at Rupert (Sanders) ," a source revealed.
Article continues below advertisement
"But he's starting to wind down and really think about what he's going to do regarding his relationship with Kristen. He goes back and forth...
"There's definitely some friends who think he should just move on from Kristen, but then there are others who still think Rob and Kristen really have a special connection and want him to give her another chance.
"He has a lot to think about and hasn't decided either way right now."