Exclusive
Kristen Stewart Is Not Welcome At Rob Pattinson's Cosmopolis NYC Premiere!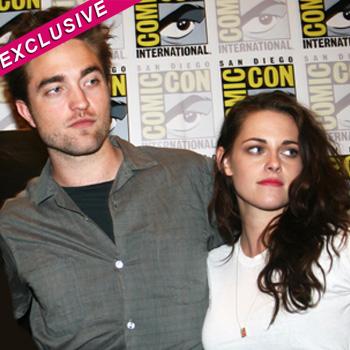 Article continues below advertisement
"Despite the fact Robert and Kristen have been communicating by cell phone, she will not be at the Cosmopolis New York premiere," a source said.
"Security was briefed and they were told that Kristen is not allowed anywhere near the red carpet or the after party.
"The decision was made because Robert just doesn't want to see her. There were fears that she could use it as a chance to talk to him in person and that sort of drama is not wanted at the premiere.
"There's also the fact that if she did attend, it would distract from the film premiere itself and the movie bosses are not interested in that sort of publicity.
"It's going to be Robert's first public appearance since the scandal broke – and they really want to make it less of a media circus than it already will be," the source said.
On Thursday, Robert Pattinson's rep moved to quash rumors that he had pulled out of all future public appearances.
Article continues below advertisement
"Cosmopolis is a film that Robert is very proud of and looks forward to supporting," the rep confirmed to People.
"No confirmed engagements have been canceled. Any reports to the contrary are inaccurate."
As RadarOnline.com previously reported, Robert, 26, is laying low at the Ojai, California ranch of his A-list pal Reese Witherspoon.
Reese reached out to Robert because she could relate to what he was going through and wanted to offer him a place to stay, a source close to the Twilight star told RadarOnline.com.
"Reese went through a very public cheating scandal herself when Ryan Phillippe went outside their marriage and hooked up with Abbie Cornish, so her first thought when she heard about Kristen and Rob was to reach out to him and make sure he was okay," the insider exclusively revealed.
"Reese knows what it's like to be on display when your heart is broken, so she felt like opening up her home to Rob was the right thing to do."