Exclusive
Jodie Foster Offers Kristen Stewart A Shoulder To Cry On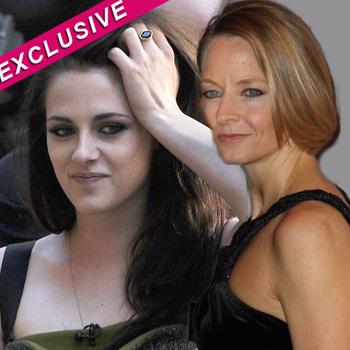 Article continues below advertisement
And while Jodie, 49, doesn't condone K-Stew's behavior, she has told her younger counterpart that mistakes do happen.
"As soon as she heard the news, Jodie contacted Kristen to offer her support," a source revealed. "They have been close friends since they starred opposite each other in the 2002 movie Panic Room, and Jodie is a mother-like figure to her.
"Jodie told Kristen to take no notice of the media bashing and said if she wanted to cry her heart out to her she's always available.
"Jodie loved Rob and is disappointed with Kristen for cheating on him. However, she knows at 22, she's still very young and unfortunately people make mistakes in life. She thinks Kristen will learn from this and will only grow into a more mature person because of it.
"She certainly has no intention of turning her back on Kristen during such a difficult period in her life," the source added.
As RadarOnline.com previously reported, Rob and Kristen are fighting over custody of their beloved adopted pooch, Bear.
Article continues below advertisement
Kristin gets to keep her cat, Max, but Rob wants Bear, the mixed mutt rescue they adopted from a high-kill shelter in New Orleans.
But K-Stew won't give up Bear without a fight, she's especially fond of the dog after helping him fight the potentially fatal disease Parvo.
"After Rob moved his things out of their Los Angeles home, he then told Kristen he wanted Bear," an insider said.
"She was heartbroken; they adopted Bear together and she always felt that he was their little baby.
"But Rob was so hurt by Kristen's actions he decided that he wants the dog to help him get over what happened. After all, a dog is a man's best friend and Bear is such a good companion.
"However, Kristen won't give up Bear in a hurry. She helped Rob save Bear from Parvo disease, which nearly took its life when it was a puppy.
"She wants joint custody, and it could get a little messy," the insider revealed.