Robert Pattinson Laying Low At Reese Witherspoon's Ranch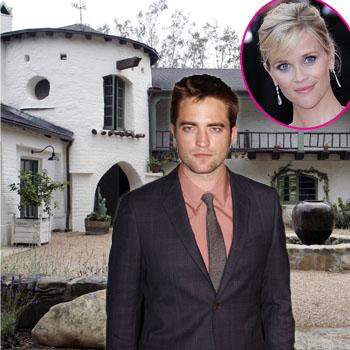 Robert Pattinson has been a phantom since news spread of Kristen Stewart's tryst with director Rupert Sanders, and according to a new report, the dashing English actor is weathering the storm at the Ojai, California ranch of his A-list pal Reese Witherspoon.
Witherspoon, 36, uses the $7 million ranch as a vacation home; she famously wed now-hubby Jim Toth there in March 2011.
The 26-year-old actor -- who co-starred with Witherspoon in the period piece Water for Elephants -- is "a total mess" in the wake of the scandal and "questioning everything," an insider told Us magazine, adding he "doesn't know what to do."
Article continues below advertisement
Despite Us Weekly's sympathetic tone, the tabloid is the one that paid well into six figures for photos of her with the director. The tabloid has refused to reveal exactly how much it paid to the photog who hounded Stewart.
The 22-year-old Stewart is "dying to save the relationship," feverishly texting and calling her Twilight co-star in hopes of salvaging the romance, a separate source told the magazine. "It's the only thing she cares about."
As we previously reported, Pattinson wasted no time after being cheated on in painfully public fashion, moving out of the Los Angeles home he lived in with his girlfriend of three years Thursday. The two are at odds over who will keep the dog they shared, Bear.
Stewart quickly admitted to her liaison with the married Sanders as pictures of their romantic day in Los Angeles July 17 began sprouting up online.
Article continues below advertisement