PHOTOS: A-Listers For Elephants -- Robert Pattinson & Reese Witherspoon In Sydney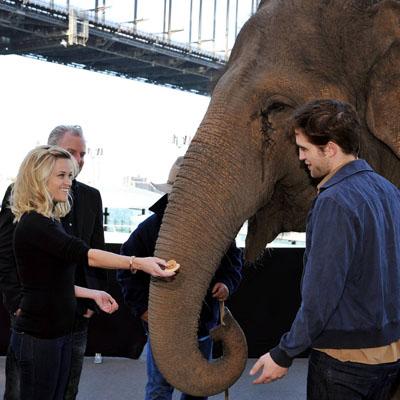 P.T. Barnum would be proud.
Yes, that was Robert Pattinson and Reese Witherspoon posing with an actual elephant to promote their new period piece Water For Elephants in Sydney, Australia on Friday.
Both Pattinson, 24, and Witherspoon, 35, dressed casually for the outdoor press conference, and the Oscar-winning Walk The Line beauty especially got a kick out of petting the elephant's trunk.
In the film, based on Sara Gruen's book, Pattinson plays a veterinarian-in-training who takes a position with the circus after his parents die.
Article continues below advertisement
Water For Elephants is in theaters now.
RELATED STORIES: