Judge Expected To Split Guardianship Of Jackson Kids Between TJ, Katherine Jackson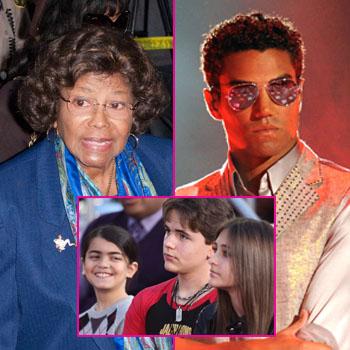 The Jackson family drama will return to court in Los Angeles Wednesday, when a judge is expected to grant TJ Jackson the status of co-guardian, along with family matriarch Katherine, for Michael's three children, Blanket, Paris and Prince.
The ruling will come weeks after a string of bizarre incidents involving the 82-year-old grandmother/guardian, who was whisked away to an Arizona resort by her children and out of contact with the grandkids for 11 days.
Article continues below advertisement
TJ, 34, was appointed a temporary co-guardian in July by Superior Court Judge Mitchell Beckloff in the wake of Katherine's mysterious trip.
Both TJ and Katherine have signed off on the dual guardianship arrangement, and Prince and Paris are said to be satisfied with it, as well. Should something happen to TJ or Katherine, the other would assume sole guardianship of the three kids.
TJ, 34, is a cousin on the children and the son of Tito Jackson. He sings in a band called 3T.