Tito Jackson's Daughter Says Katherine Is Too Old To Raise Michael's Kids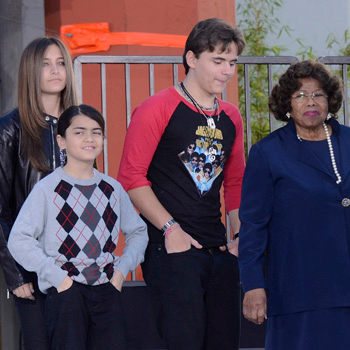 Another Jackson family member has broken ranks to open up about their family feud.
Tanay Jackson, Tito Jackson's daughter, spoke to Inside Edition to say that her grandmother Katherine is too old to look after the King of Pop's children, Paris, Prince and Blanket.
"I don't think she should raise the kids," the aspiring singer said about the 82-year-old family matriarch. "I understand that she is attached to them and she has been raising them and that's probably why she still wants to have a little bit more involvement."
Article continues below advertisement
But, she added: "I think she needs a rest."
Instead Tanay thinks Tito's son TJ Jackson, 34 – who won temporary custody of his cousins last week  – is the right person to care for Michael Jackson's children.
"The best person to raise them would be TJ," she said. "He's younger. He's a dad himself and he's become a father figure to Michael's kids…
"They like him very much, that I know."
Tanay also spoke out about the public spat between Janet and 14-year-old Paris.
"Janet means very well," Tanay said. "She knew that Paris did all the tweets and that's probably why she wanted to take Paris' phone away, so she wouldn't continue to cause all that hoopla."
But, by speaking out, Tanay seems to have created some hoopla of her own. Taryll Jackson – the middle of Tito's three boys – denied she is even his half-sister.
Referring to an earlier interview she gave he tweeted on Sunday: "Tanay Jackson is NOT related to us."
Article continues below advertisement