Bad Sportsmanship! The Biggest Cheating Scandals In Sports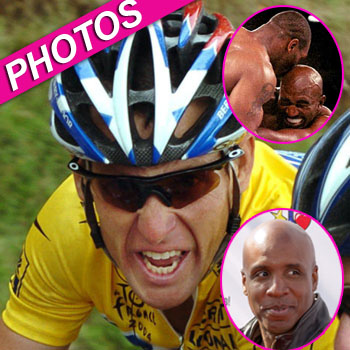 Article continues below advertisement
The USADA in June said it had conclusive evidence, including blood tests, that the iconic sportsman had used banned substances in 2009 and 2010; and as far back as 1996. The agency said it had 10 of his former teammates lined up to testify against him.
Sadly, this is hardly the first time that the sports world has been rocked by a cheating scandal and fans have had to accept that their idols have the most human of flaws. From baseball to boxing, RadarOnline.com has compiled seven of the biggest cheating stories in sports.
7. The scandal that rocked the 1919 World Series and went down in baseball history involved eight members of the Chicago White Sox who were busted for throwing not only balls, but whole games. The conspiracy was led by first baseman, Arnold "Chick" Gandil, who had illicit ties with the criminal underworld, and persuaded several of his teammates and professional gamblers and gangsters to join in his profitable plot.
Article continues below advertisement
Many of the players involved were motivated by a hatred of club owner Charles Comiskey, who notoriously underpaid them. The group arranged to intentionally throw games against the Cincinnati Reds throughout the World Series championship and eight players including star outfield "Shoeless" Joe Jackson were eventually banned from baseball for life. The team did not win a World Series until 2005 because of what became known as The Curse Of The Black Sox, and the disgrace was later immortalized in the 1988 film Eight Men Out, starring Charlie Sheen, John Cusack and D.B. Sweeney.
6. Canadian hockey player Marty McSorley lengthened his odds for a win for the Los Angeles Kings when he was caught playing with an illegal stick during the 1993 Stanley Cup Final against the Montreal Canadiens. With less than two minutes away from taking the lead, the 6'1" player was busted for using a stick with a curve that went beyond NHL legal limits. The crime cost the Kings the game and inevitably the championship. McSorley's reputation got even more sullied in 2000 when he was found guilty of assault with a deadly weapon for beating Vancouver player Donald Brashear unconscious and sentenced to 18 months probation and an NHL suspension that marked the end of his career.
Article continues below advertisement
5. It wasn't a single athlete or just a team but a whole country that was suspected of cheating in the 2008 Beijing Olympics. Despite assurances by Chinese officials that all of their female gymnasts were 16, records revealed that three members were under the minimum age of eligibility for Olympic competition, with one as young as 14. The International Olympic Committee also stripped China's Dong Fangxiao of a medal from the 2000 Games in Sydney because it was discovered that she was underage.
4. The highly anticipated re-match between heavy weight boxers Mike Tyson and Evander Holyfield resulted in one of the most controversial events in modern day sports when ex-con Tyson decided to literally take a bite out of his competition. Dubbed The Sound And The Fury, the fight had to be called off in the third round when Mad Mike was disqualified for biting Holyfield on both ears. One vicious chomp was severe enough to remove a piece of Evander's right ear, which was found on the ring floor after the fight. In the confusion that ensued, a near riot erupted at the Las Vegas MGM Grand arena leaving several people injured. Tyson was later fined $3 million and handed down sanctions that effectively made him unable to box in the United States for a year.
Article continues below advertisement
3. Figure skater Tonya Harding's method of cheating involved a cruel and violent crime when she hired a group of thugs to knock rival Nancy Kerrigan out of the U.S. Nationals in 1994. Kerrigan was attacked by a man hired by Harding's ex-husband, Jeff Gillooly and bodyguard Shawn Eckhardt, who struck her above the knee with a collapse baton – he was aiming to break her leg but only bruised it. Kerrigan was forced to withdraw from the competition with Harding winning the event and them both qualifying for the Olympic team, turning their practice sessions in Norway into "a sensational tabloid event." All the men involved in the attack eventually served prison time and Harding escaped with just probation and a $160,000 fine after pleading guilty to conspiring to hinder prosecution of the attackers.
2. Barry Bonds' claims of being one of the greatest baseball players of all time will forever have a huge asterisk next to it after he became a central figure in the sport's biggest steroids scandal. In 2007, he was indicted on charges of perjury and obstruction of justice for allegedly lying to the grand jury during the government's investigation by testifying that he had "never knowingly taken steroids."
Article continues below advertisement
The 48-year-old home run king was eventually found guilty of obstruction of justice in April 2011 but the jury was unable to reach a decision on three of the other charges, he evaded a 15-month prison sentence and was instead granted two years of probation, 30 days of house arrest and 250 hours of community service.
1. Canadian sprinter Ben Johnson shocked the world when he beat American Carl Lewis in the 100 meter final at the Seoul Olympics in 1988 (he also lowered his own world record to 9.79 seconds.) Even more shocking was the revelation that the runner's urine samples tested positive for stanozolol - he was disqualified three days later and his gold medal was passed down to Lewis. Johnson later admitted having used steroids when he ran his 1987 world record, causing him to be stripped of that record as well. He initially denied the charge but finally admitted his guilt after a lengthy investigation dubbed The Dublin Inquiry.