Lance Armstrong Faces New Doping Charges That Could Cost Him Seven Tour Titles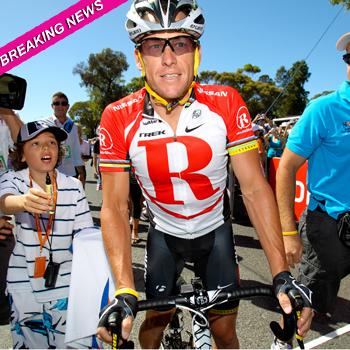 By Debbie Emery - RadarOnline.com Reporter
Cycling super star Lance Armstrong was slammed with more doping charges from the U.S. Anti-Doping Agency on Tuesday that could result in him having his seven Tour de France titles taken away.
The champion was immediately banned from competing in triathlons, which he took up last year after retiring from cycling, reported the Washington Post.
In the 15-page charging letter sent to Armstrong obtained by the Post, the USADA made previously unpublicized allegations that it had collected blood samples from Armstrong in 2009 and 2010 that were "fully consistent with blood manipulation including EPO use and/or blood transfusions," even though he has never officially tested positive.
Article continues below advertisement
Most assumed the matter had been dropped in February when the U.S. Attorney's Office in Los Angeles closed their two-year investigation without bringing about criminal charges, despite two former teammates Floyd Landis and Tyler Hamilton publically accusing Lance of doping.
"I have never doped, and, unlike many of my accusers, I have competed as an endurance athlete for 25 years with no spike in performance, passed more than 500 drug tests and never failed one," Armstrong said in a statement released by his publicist.
"That USADA ignores this fundamental distinction and charges me instead of the admitted dopers says far more about USADA, its lack of fairness and this vendetta than it does about my guilt or innocence. Any fair consideration of these allegations has and will continue to vindicate me."
It is far from the first time that the 40-year-old Texas native has made public denials of his guilt. As RadarOnline.com previously reported: "20+ year career. 500 drug controls worldwide, in and out of competition. Never a failed test. I rest my case," he tweeted in May 2011.
MORE ON:
Celebrity Justice
Article continues below advertisement
The damning letter from the USADA alleges that Armstrong and five former cycling team associates — three doctors including Italian physician Michele Ferrari, one trainer and team manager Johan Bruyneel— engaged in a massive doping conspiracy from 1998 to 2011, and that "the witnesses to the conduct described in this letter include more than ten (10) cyclists."
The USADA is the quasi-government agency that oversees anti-doping in Olympic sports in the United States, and while it can enact suspensions and rescind titles, it can not bring about criminal charges.