Exclusive
Pauly D's Puffer Face Prompts Speculation That He's Getting Help Plumping Up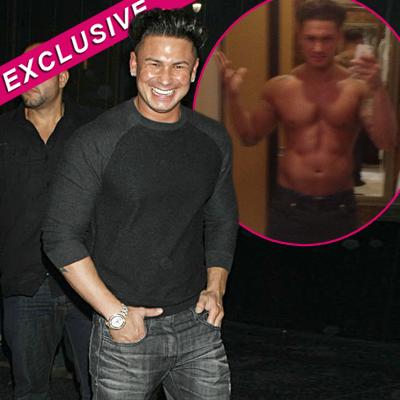 With a motto like "Gym, tan, laundry," the Jersey Shore gang's love of pumping iron is no secret, but Paul "Pauly D" DelVecchio appears to be getting a helping hand with his workout regime if his bulging muscles and bloated face are anything to go by.
The reality star has reportedly gained 20 pounds of pure brawn by exercising three hours a day, and many suspect that he may have undertaken a course of steroids to up the ante in the weight room.
Article continues below advertisement
"When a man takes steroids, he becomes bloated, holds a lot of water, and his estrogen rises," nutritional expert Jackie Keller of NutriFit, who has not treated the star told RadarOnline.com in an exclusive interview.
"This happens because, when you add in so much synthetic testosterone to your body, your natural levels of testosterone shut down and you stop producing it naturally. This leads to a rise in estrogen, which leads to water retention that makes people look bloated.
"For this reason most people who take steroids use some sort of diuretic and estrogen blocker so they can try to stay as lean as possible," Keller explained. "Also, most people that take steroids stick to a pretty strict diet during the cycle to make sure they get the full affects of the drug. As a result, they become grumpy, and seem unapproachable it is due to the strict diet and increased aggression that steroids give people."
Article continues below advertisement
However Keller cannot say definitely whether Pauly D. takes steroids or not, "Bloating can be a side effect of many things. He looks like he was on his 'off-cycle,' meaning he isn't following a diet, and is eating bad food and drinking a lot," she explained.
While it has never been proven or admitted, there have been rampant rumors over years that Pauly D and his amped up costars Ronnie Magro and Mike "The Situation" Sorrentino are "juicers."
"I'm 100 percent natural. I just have very good genetics. I've had a six-pack since I was little, and even if I miss the gym, the six-pack is always there," the Sitch, who recently completed a stint in rehab, told TVGuide.com in 2010.
If Pauly D isn't taking steroids, his puffer fish face could be caused from excessive plastic surgery, explained celebrity plastic surgeon, Dr. Anthony Youn, who has not treated the star.