VIDEO: Lance Armstrong Lashes Out Amid New Doping Bombshell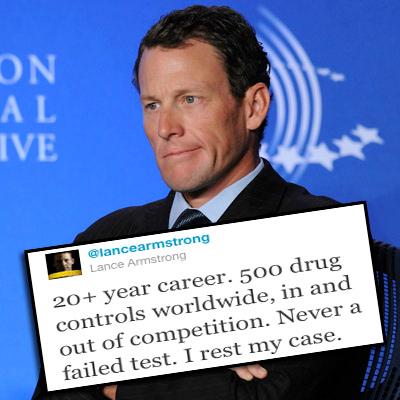 "20+ year career. 500 drug controls worldwide, in and out of competition. Never a failed test. I rest my case."
That's what cycling legend Lance Armstrong had to say in a tweet late Thursday, just days before 60 Minutes airs a bombshell interview with Tyler Hamilton, a former cycling peer who said he witnessed Armstrong inject himself with a banned substance called EPO on many occasions.
Article continues below advertisement
PHOTO: Aaron Carter Smoking From A Pipe
"I saw it in his refrigerator, I saw him inject it more than one time," Hamilton, an Olympic gold medalist in 2004, tells CBS.
Armstrong also tweeted a link to a website called Facts4Lance.com.
On it, Armstrong's attorney Mark Fabiani rips his client's accuser in a statement on the site, saying "Tyler Hamilton is a confessed liar in search of a book deal – and he managed to dupe 60 Minutes, the CBS Evening News, and new anchor Scott Pelley.