Exclusive
Trainer To The Stars Gunnar Peterson Reveals His Hollywood Workout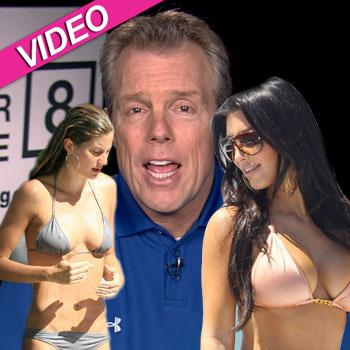 Article continues below advertisement
"Whatever they do in the gym you'll be doing in the challenge, and in the same place because we'll be filming it in the gym. You're having everything they have."
Among the dedicated celebs who flock to Peterson's exclusive private Beverly Hills gym to be put through their paces are Kim Kardashian, Jennifer Lopez, Ryan Seacrest, Sofia Vergara, Tom Brady and Gisele Bundchen.
"It's hard to say what the stars' favorite moves are as we do one thing and then are on to the next, but Kim is an incredibly hard worker," he revealed. "She shows up, does the work, she makes time. She come right from the airport to the gym. She is no stranger to 6 a.m. workouts.
"I worked with Jen (Lopez) for 13 years. Again, it is about being consistent and getting in and getting it done. You can fit it into your life if you make it a priority," Gunnar went on to say about the American Idol host who he coached for a triathlon just months after giving birth to her twins.
As for power couple Tom and Gisele, "These are people who come in and crush it every day. The intensity you see on the field is the same intensity that you see in the gym, it's not a mystery that it translates over."
Article continues below advertisement
Peterson revealed why just like his client list, his online workout program stands out way above the competition.
"There's a new workout every day, there are recipes, and meal plans and shopping lists, as well as daily motivational tips and verbal vitamins," he told RadarOnline.com.
"It's something you can do with limited amount of space and limited equipment. It's comprehensive and not just about the workouts. They are varied enough that your body will keep being challenged, not to mention your brain will be engaged."
The long-time trainer explained that getting in shape is just as much about what you put in your body as what you do with it.
"Having the nutritional database – we have over 100,000 foods that you can tap into so that you're eating what you want and still not exceeding your caloric limits. If you make a couple of tweaks nutritionally then you are going to be able to get even closer to your goal. It's the one-two punch that does it."
Article continues below advertisement
One of the secrets to members' workout success is the team mentality and having people across the county who are all in the same boat.
"You have the support system of all the other challengers so you can go onto the forums and talk about it. Everyone starts at the same time on May 21. There are people there who can commiserate or you can help each other through, you can brag, you can whine, whatever you want!
"Instead of getting in shape every spring for every summer, you can get in shape and stay in shape," he explained.
The 8-week Gunnar Challenge is Gunnar's first online diet and fitness program, developed with SP Health. To sign up, visit here before May 20.
radar_embed service=5min.com src=" http://pshared.5min.com/Scripts/PlayerSeed.js?sid=1126&width=665&height=360&playList=517713703&sequential=1&shuffle=0"