American Idol: Who Might Be Gone In A Flash?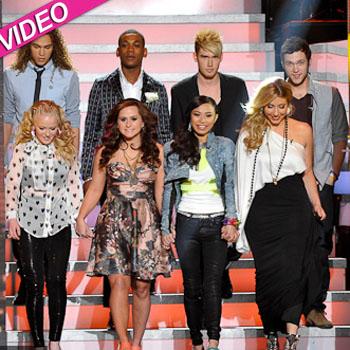 OK, so Steven Tyler, Jennifer Lopez and Randy Jackson weren't that abrasive toward Hollie Cavanaugh, but her ill-received interpretation of Irene Cara's Flashdance helped the normally-sugar sweet panel channel their inner-Simon Cowell.
Tyler told the McKinney, Texas native: "Your pitch was all over the place, I'm so sorry to tell you."
"You're listening to what everyone is telling you," a frustrated Randy Jackson explained to the 18-year-old. "It didn't feel like the pop song it is."
Article continues below advertisement
Elise Testone didn't fare much better during the tribute to the decade of decadence, as her rendition of Foreigner's ballad I Want to Know What Love Is had Jackson telling her she was "much better than" she showed.
"It was just out of tune everywhere for me," he told the 28-year-old South Carolina native.
On the flipside, Joshua Ledet and Jessica Sanchez simply killed it in their duet of Aretha Franklin and George Michael's I Knew You Were Waiting (For Me), leading Jackson to proclaim the duet "one of the greatest performances" he's seen in 11 years on the panel.
"It was so over the top," Tyler said, "it defies judging."
Fun fact: After years of internal strife and personal problems, Tyler and Aerosmith sprung back into relevancy -- and had a hand in the first ever mainstream rap hit — collaborating with Run-D.M.C. on the 1986 remake of their hit, Walk This Way.
Watch the video on RadarOnline.com
Someone's getting eliminated when American Idol's 11th season continues Thursday at 8/7c on Fox.