Matt Lauer Asks Ryan Seacrest: Are You Taking My Job?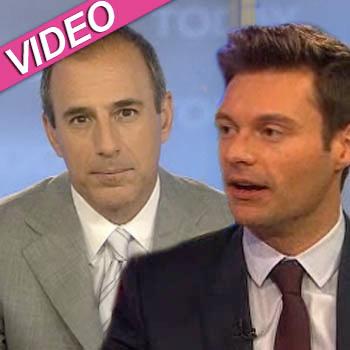 NBC's been home to some nuclear power struggles over the years -- Jay vs. Dave, Jay vs. Conan -- could Matt Lauer vs. Ryan Seacrest be the next in the line?
Apparently not, if you believe the principle players, as both Lauer and Seacrest, appearing on the Today Show Wednesday, tried to quash whispers of tension in light of recent rumors the American Idol host could poach Lauer's coveted Today Show gig as his contract winds down.
Article continues below advertisement
Seacrest confirmed he has had meetings with top NBC brass, as he'll be joining NBC's coverage of the Summer Olympics in London, but stopped short of dishing on any Today Show developments that might have been discussed.
"Oh, they didn't tell you?'' Seacrest joked, to which Lauer added he wanted the "names and dates'' of those involved in the meetings.
Seacrest said "the plan is for me to join the NBC family and continue to have a role with the E! Network," adding the execs, as far as the Today Show goes, "were mostly about filling in to do weather."
While the two had their best poker faces going, Lauer said there's "no tension" between he and the younger, handsome media mogul who the network might be grooming for his spot.
Watch the video on RadarOnline.com
"I think you would be great at this job, and secondly … Ryan and I are friendly,'' Lauer said. "We have talked about this and joked about this."
Seacrest upped the ante on the "frenemy" love fest, telling Lauer, "I see you doing this for as long as you want to so maybe the question is, 'How long will you be on the Today show?'''
Article continues below advertisement