Ryan Seacrest To Replace Matt Lauer On Today?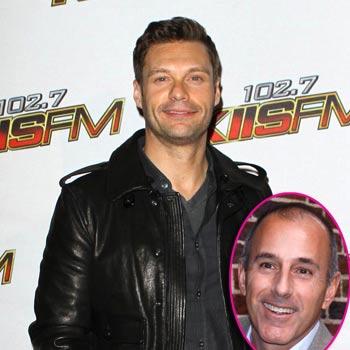 Is the hardest working man in show biz adding a new gig to his resume?
NBCUniversal reportedly has its eye on Ryan Seacrest to replace Matt Lauer in the event he leaves the top rated Today show next year.
Top NBC executives met with the American Idol host on Tuesday evening to discuss him joining the show, according to The Wall Street Journal.
The paper also notes that the talks are preliminary and could fall apart.
Article continues below advertisement
If NBCUniversal does in fact tap Seacrest to co-host the iconic news program with Ann Curry, the network will without doubt open itself up to criticism since Seacrest is not a seasoned journalist.
In addition his duties on American Idol, Seacrest also hosts a daily radio program on KIIS-FM in Los Angeles and is the co-anchor and managing editor of NBCUniversal's E! News; he also runs a successful production company, perhaps best known for producing Keeping Up with the Kardashians and its spinoffs.