Giuliana Rancic On Double Mastectomy: 'My Breasts Have Never Defined Me'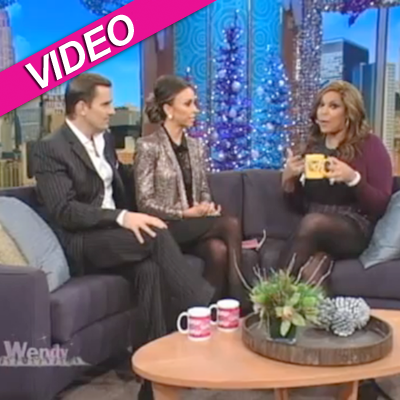 Giuliana Rancic continues to show remarkable courage and grace as she prepares for her upcoming double mastectomy and reconstructive surgery in wake of her battle with breast cancer.
The beautiful E! News anchor and reality TV star is scheduled to undergo the radical procedure next Tuesday, December 13, and she says she's ready for her "badge of courage."
"Listen, I love my girls, but I'm gonna feel more like a woman when this is all done," Rancic, 37, said on The Wendy Williams Show on Tuesday.
Article continues below advertisement
Giuliana - who was joined on the program by her husband, former Apprenctice winner Bill Rancic, 40, - said she thinks "scars are beautiful. I think scars tell a story."
In a separate interview in the new issue of PEOPLE, Giuliana talked more about the scars she knows are coming. "I think scars tell such an incredible story," she said. "I'll always look at them and think, 'Wow, I made it through that.'"
Despite her courage, she also admitted to the magazine, that there are, of course, low points.
"Usually it's 2 in the morning, and I'll turn around from Bill so I don't wake him up, and I just cry," she says. "I sob and think, 'How did this happen?'"
While Giuliana says she is nervous about the surgery, she told Wendy Williams she's doing her best to stay positive.
"They might come out looking even hotter," Giuliana joked.
Article continues below advertisement
"You gotta have fun with this. We find the humor in everything. Bill helped pick 'em out. I'm like, 'Bill, that big? Really?'"
Summing up her feelings, she told PEOPLE: "My breasts have never defined me – and now they never will."
Giuliana was diagnosed with breast cancer back in August during a routine mammogram. At first, doctors treated her with a lumpectomy and radiation.
On Monday, Giuliana announced on the Today Show that early treatments were ineffective, so she planned to undergo a double mastectomy.
"Instead of radiation, I'm going to go ahead and move forward," she told Ann Curry.
Giuliana - who's been public about her desire to have a child - said alternative treatments would have put her into early menopause, but that's not the factor spurring the bold decision.
"To be honest, at the end, all it came down to was choosing to live and not looking over my shoulder the rest of my life," she said.
The E! News host has told her co-worker Ryan Seacrest that Monday, December 12 will be her last day at work before she has the procedure.