Exclusive
Kim Kardashian 'Guilted' Former Hubby Kris Humphries To Appear On Camera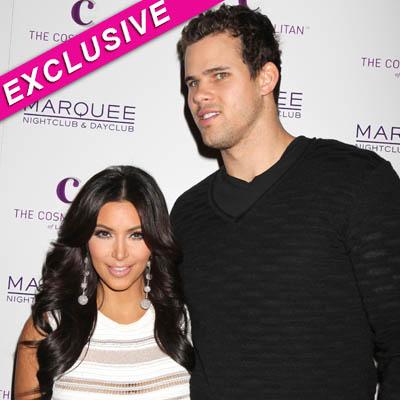 By Jen Heger - Radar Legal Editor
Kim Kardashian's former hubby, Kris Humphries didn't want to appear on any of the Kardashian reality shows, but was "guilted" to do so by his wife of less than 72 days, RadarOnline.com is exclusively reporting.
The ill fated relationship was chronicled on film from the onset, something that Humphries didn't want to participate in.
"Kris is a relatively private person, and he just didn't want to be on camera and part of a reality show," a source close to the situation tells RadarOnline.com. "In the beginning of the relationship, Kim implored Kris to just appear on camera briefly. Kim played the Reggie Bush card. Reggie loathed the cameras and the reality show, and it was a big source of strain for them while they were dating. Reggie only appeared on Keeping Up With The Kardashians a handful of times. Kim was always pestering Reggie to be on the show, but he always held his ground. Kim guilted Kris into initially appearing on the show."
Article continues below advertisement
As RadarOnline.com previously reported, Kim, who has the final say over the show's editing, will do her best to present herself "as the victim" and Humphries as "the bad guy" on the program.
The new season Kourtney & Kim Take New York kicked off on E! Sunday, and viewers got a chance to see the festering marital problems Kim Kardashian and Kris Humphries faced during their short lived union.
Among the eye-popping moments on Sunday's season premiere were Kris mocking Kim's weight by saying she ate too much cake at their wedding; Kris nonchalantly letting a loud fart fly in Kourtney's face; Kim hitting Kris after she feels he ruined her pedicure; and Kris manhandling Kim as they horsed around over a camera.
A source says that Kim is going to attempt to use her reality show as a way to "rehab" her image, after attracting a barrage of bad press, and even calls to boycott the Kardashians following her filing for divorce.
"Kim was stunned by the amount of bad press and the public relations nightmare she has endured since deciding to file for divorce," an insider tells RadarOnline.com. "Kim will be using the show to attempt to rehab her image.
Article continues below advertisement
"Kim has been telling her inner circle that she has worked very hard to get where she has, and she isn't going to let her marriage and subsequent decision to divorce Kris Humphries ruin that."
With the NBA lockout formally over, Humprhies is hoping to get back to work. "Kris just wants to sign with an NBA team, and get back to work. Kris feels that appearing on the Kardashians reality shows has hurt his career and image," the pal asserts.