Exclusive
Keeping Out Of The Spotlight! Kris Jenner Trying To Keep Kim On Lock Down!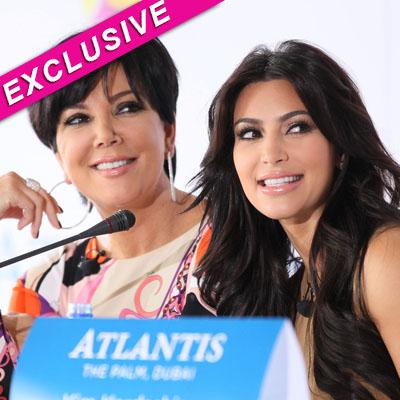 By Alexis Tereszcuk - Radar Senior Reporter
Kim Kardashian is on a temporary lockdown, and RadarOnline.com has exclusively learned that it is all the doing of her mother Kris Jenner.
Kris, the 56-year-old Kardashian family matriarch, has gone into major damage control and has laid down the law with her scandal ridden daughter, telling Kim that she has to stay out of the spotlight now that her divorce filing has caused so much bad press for the family.
Article continues below advertisement
"They did not anticipate the extreme backlash and the damage it would cause to the K-brand as a whole. The whole empire has been affected by this dumb marriage and Kris Jenner is all about getting paid," a source close to the family told RadarOnline.com.
Kim's public appearances have been strictly limited by her mom-ager since she filed for divorce on October 31 after 72 days of marriage to Kris Humphries and hastily returned from an Australian promotional tour.
"Kim and her sisters are the puppets. Kris is the puppeteer," the source said about the family dynamics.
Another source told RadarOnline.com that Kris has told Kim that she doesn't want her to do anything in public or any interviews until their reality show launches next week.
"Kris wants to make sure that the ratings are huge for their show and she knows that if Kim stays under the radar until that airs again they'll get the maximum publicity out of her situation."
Article continues below advertisement
As RadarOnline.com previously reported, Kim's been suffering a major backlash following her speedy wedding and divorce filing -- there are several grass roots organizations that are circulating online petitions in an attempt to get all things Kardashian off television. As of Monday, the "No More Kardashian" petition, which launched on November 2, had more than 163,000 signatures.
The second season of Kourtney & Kim Take New York will air on E! on Sunday, November 27.