Exclusive
Oops! Kim Kardashian Ordered Christmas Cards With Doomed Wedding Day Photo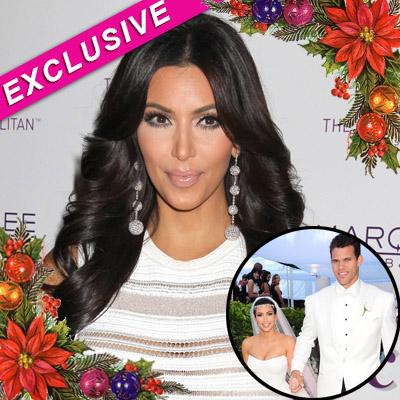 Radar Legal Editor
Kim Kardashian has committed an expensive festive snafu, having placed an order with a high end stationery company to produce Christmas cards featuring her and her soon-to-be ex-husband, Kris Humphries on their wedding day, RadarOnline.com has exclusively learned.
The E! reality vixen filed for divorce on October 31 after just 72 days of marriage and has since come under fire from reports that the relationship and the wedding were a hoax.
Article continues below advertisement
Before departing for their short honeymoon to the Amalfi coast, Kim instructed the stationery company to prepare options for her Christmas cards, featuring their official wedding portrait which was taken on the staircase inside the Montecito estate where the nuptials took place.
"Kim is a planner, and is obsessed with details, and a total control freak. She wanted her Christmas cards to be perfect, and she wanted at least 10 different choices of holiday cards, black and white, matted finish, you name it, Kim thought of it," a source close to Kardashian tells RadarOnline.com. "The proofs were delivered to Kim in mid-September, and she conveyed to the owners of the company that she was very pleased with the results. Kim said she would get back to them with a final choice, but alas, she never did, for obvious reasons."
On Monday, Kim revealed she redid her holiday cards, tweeting: "Shooting our family Christmas card today. u guys will love our theme this year. Hanging w the fam is the best! Then off 2 see Rob dance!"
As RadarOnline.com previously reported, after filming had wrapped on Kourtney & Kim Take New York, Kim began watching footage from the show, and the newlywed was mortified by Humphries' on camera behavior, and this prompted Kim to recognize she had no other option than filing for divorce.
Article continues below advertisement
Even though Kim isn't an executive producer, she has full editorial control of what goes onto the show. Kim began watching the footage after filming wrapped in mid-October, and, according to a source, was, "absolutely mortified when she saw on camera, the way that Kris was treating her. The marriage was already under a tremendous amount of stress, but she just couldn't believe that she had married this man that was treating her and her family like this."
COURT DOCUMENTS: Read Kim Kardashian's Divorce Papers
Kim's been suffering a major backlash following her speedy wedding and divorce filing -- there are several grass roots organizations that are circulating online petitions in an attempt to get all things Kardashian off television. As of Monday, the "No More Kardashian" petition, which launched on November 2, had more than 163,000 signatures.
The second season of Kourtney & Kim Take New York will air on E! on Sunday, November 27.