Kim Kardashian's Ex-Rep Jonathan Jaxson Tweets He's Home & Sorry About Alleged Suicide Attempt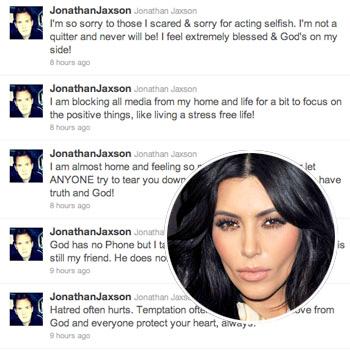 Jonathan Jaxson, who very briefly worked with Kim Kardashian on a project several years ago, is now tweeting that he's "sorry" he worried everyone with what was alleged to be a suicide attempt.
Jaxson did numerous interviews after Kim filed for divorce, claiming that her marriage had been a sham from the start. She fired back by hiring a top Hollywood lawyer to sue him.
Then on Wednesday night, Jaxson tweeted what appeared to many to be suicidal thoughts, followed by more messages from his so-called BFF who said Jonathan had been taken to the hospital in the nick of time.
Article continues below advertisement
Radar was never able to verify that such an attempt actually took place, and Jaxson's Twitter account went silent.
Until Saturday!
Jaxson has sent out numerous messages about being home, loving God and concentrating on the positive. He also apologized to his 2,982 followers.
"I'm so sorry to those I scared & sorry for acting selfish," he wrote.
"I'm not a quitter and never will be!"
There was no mention of Kim, suicide or lawsuits in any of the several new messages.