Kris Humphries Mocks Kim's Weight In Premiere Of Kourtney & Kim Take New York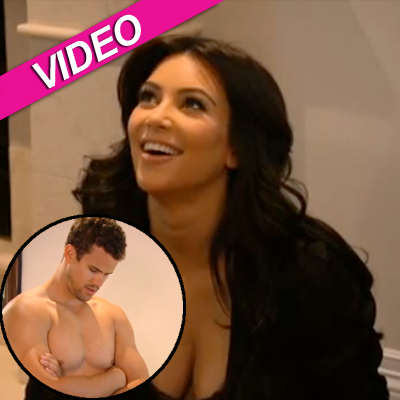 The new season Kourtney & Kim Take New York kicked off on E! Sunday, and viewers got a chance to see the festering marital problems Kim Kardashian and Kris Humphries faced in their ill-fated, 72-day marriage.
Among the eye-popping moments on Sunday's season premiere included Kris mocking Kim's weight by saying she ate too much cake at their wedding; Kris nonchalantly letting a loud fart fly in Kourtney's face; Kim hitting Kris after she feels he ruined her pedicure; and Kris manhandling Kim as they horsed around over a camera.
Article continues below advertisement
"Give it to me, you are my wife now, you are my wife -- it is going to take a lot to get rid of me," he said during the latter exchange.
Throughout the episode, it's clear Kris is out of sync with the fast-paced Kardashian lifestyle, frequently grousing that the endless late nights and red carpets are sidetracking him from the strict regimen he keeps to stay employed in the NBA.
The tension culminated when Kourtney decided to organize a naked Yoga session (the Kardashian girls curiously wore exercise gear, however).
When Kris walked in to see a chiseled instructor -- in the buff, telling his wife how to work her body -- things got predictably testy.
"That is disgusting -- this is my home -- this is disrespectful!" he said.
"You are so immature -- I can't take it!" Kim yelled back at the former New Jersey Net, who replied, "You can't take it? I can't take it ... I felt uncomfortable when I came in. I nearly threw up!"
Article continues below advertisement
After the fight, Kris, saying that lifestyle has made for too big a distraction for him to train, packs up and heads back to his native Minnesota, seemingly to Kim's relief.
Watch the video on RadarOnline.com
"I am sad, but Kris is really supportive of my career, and if Minnesota is the best place for him to work out, then that's what he should do," she said in an off-camera interview.
As RadarOnline.com previously reported, Kim, who has final say over the show's editing, will do her best to present herself "as the victim" and Humphries as "the bad guy" on the program.
"Kim was stunned by the amount of bad press and the public relations nightmare she has endured since deciding to file for divorce," a source close to the situation tells RadarOnline.com. "Kim will be using the show to attempt to rehab her image.
"Kim has been telling her inner circle that she has worked very hard to get where she has, and she isn't going to let her marriage and subsequent decision to divorce Kris Humphries ruin that."
Kourtney & Kim Take New York airs on E! Sundays at 10/9c.