DUI Suspect Nails Flawless Rendition Of Bohemian Rhapsody, In Back Of Cop Car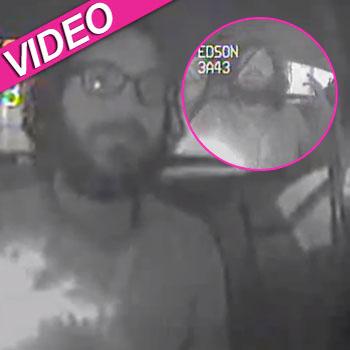 By Debbie Emery - RadarOnline.com Reporter
It was a performance of Bohemian Rhapsody that would no doubt have gotten glowing reviews from the American Idol judges, but sadly this singer's audience was not as easy to impress as Steven Tyler and Jennifer Lopez.
Maybe that's because the aspiring song bird appears to be three sheets to the wind after being picked up for intoxication by the Royal Canadian Mounted Police, or perhaps the policemen who were forced to listen to his warbling weren't music lovers, either way RadarOnline.com has video of his alcohol-induced rendition so readers can judge for themselves.
Article continues below advertisement
"I have done nothing wrong—even the situation where you grabbed me, has nothing to do with having been sort-of intoxicated… as you proclaim!" declares 29-year-old Robert Wilkinson, while he rides in the back of the cop car.
"What it has to do with is brotherhood of man on the planet Earth!" he slurs, before breaking out into the 1975 Queen classic – singing all six minutes of the tricky song without a single mistake or missing a beat, a feat which most reality singing show contestants fail to do.
The bearded Freddie Mercury wannabe even passionately waved his arms during the instrumental breaks, air drumming, air guitaring and shaking his head to the beat.
By the time he had finished his solo, his uniformed escorts had arrived safely at the police station.
"Nothing really matters! Nothing really matters! Even the RCMP!" he concluded, before falling dead silent, putting his glasses back on and calmly waiting for the cops to open his door.
MORE ON:
Celebrity Justice
Article continues below advertisement
He then asked politely, "Are you going to cuff me?" When asked if he is going to be good, he replied: "Physical violence is least of my priorities."
The hilarious incident happened last November but has been an Internet sensation this week since Wilkinson bizarrely himself posted it after he received the video as part of an evidence disclosure package for his DUI case, according to Canada's National Post, in which he is representing himself and pleading not guilty.
No word yet on whether he plans to do an encore during his court trial.