Lance Armstrong Will be Stripped Of 7 Tour de France Titles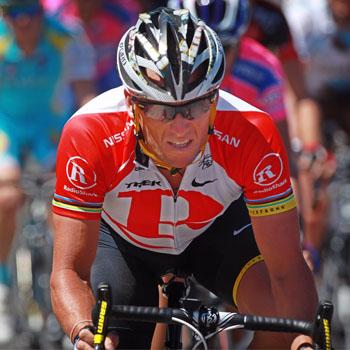 Calling it an "unconstitutional witch hunt," Lance Armstrong Thursday decided to stop battling the drug case the U.S. Anti-Doping Agency has lined up against him, and on Friday, the International Cycling Union is expected to strip the seven Tour de France titles he won from 1999 to 2005, and ban him for life from the sport.
While the ICU had backed the cyclist, USADA executive Travis Tygart said statutes from the World Anti-Doping Code leave the union with "no choice but to strip the titles under the code.
Article continues below advertisement
"It is a sad day for all of us who love sport and athletes," Tygart said.
The USADA in June said it had conclusive evidence, including blood tests, that the iconic sportsman had used banned substances in 2009 and 2010; and as far back as 1996. The agency said it had 10 of his former teammates lined up to testify against him.
"It's a heartbreaking example of win-at-all-costs overtaking the fair and safe option," Tygart said. "There's no success in cheating to win."
Armstrong, who's retired, made it clear in a statement late Thursday he was exasperated battling with a process he believes to be unfair.
"There comes a point in every man's life when he has to say, 'Enough is enough.' For me, that time is now.
"I have been dealing with claims that I cheated and had an unfair advantage in winning my seven Tours since 1999," the 40-year-old cycling icon said. "The toll this has taken on my family and my work for our foundation and on me leads me to where I am today - finished with this nonsense."
Article continues below advertisement
He continued, "I know who won those seven Tours, my teammates know who won those seven Tours, and everyone I competed against knows who won those seven Tours."
The cancer survivor, who started a trend years back with the yellow Livestrong bracelets, said he's ready to move on and devote his energy to charitable causes.
"Today I turn the page. I will no longer address this issue, regardless of the circumstances," he said. "I will commit myself to the work I began before ever winning a single Tour de France title: serving people and families affected by cancer, especially those in underserved communities."