Exclusive
David Foster Encouraged His New Bride Yolanda Hadid To Join The Real Housewives Of Beverly Hills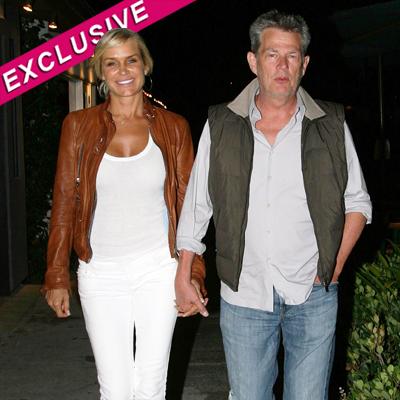 Article continues below advertisement
"David and Yolanda got married late last year, and he encouraged her to join the show because he thought it would be fun for her to do," a source close to the couple tells RadarOnline.com. "He is extremely proud of his wife and wants the world to see how lucky he is to be married to her. David is no stranger to reality television; when he was married to his third wife, Linda Thompson, they were both featured on the Fox reality show The Princes Of Malibu, which dealt with his relationship with his then step-sons, Brody and Brandon Jenner. David is very respected in the entertainment industry and trusts that Yolanda will only have a positive experience by joining the cast."
And it seems that the new cast member is going to have no problem fitting right in!
"What most people don't realize is that Yolanda was married to Lisa Vanderpump's very good friend Mohamed Hadid. Mohamed has appeared several times on the show, including during the last season when he threw an over the top engagement party for Lisa's daughter Pandora," the source says. "Yolanda is going to make an excellent addition to the cast and she can definitely hold her ground if the claws come out, she is no shrinking violet."
Article continues below advertisement
However, Yolanda could get caught in the crossfire between cast members because of bad blood that still exists between the ladies from season two!
"The women aren't friends in real life so when they get back together they just continue bickering about everything that they were mad about last season," a show insider told RadarOnline.com about Taylor Armstrong, Kim and Kyle Richards, Adrienne Maloof, Lisa Vanderpump and Brandi Glanville.
Our insider predicts that Vanderpump and Yolanda will have issues because the British restaurateur is very close with Hadid's ex-husband Mohammed. "There is definitely going to be tension between Yolanda and Lisa over some past legal wrangles that have gone on. As always, the women are going to be asked to pick sides and of course there will be lots of fighting once the tension starts building," the source predicted.
Article continues below advertisement
Last season the ratings for the show were sky high following the tragic suicide of Taylor's husband Russell Armstrong, and Kim Richards checking into rehab to treat her alcohol addiction.
The drama of the season culminated in an explosive reunion show where tempers flared, accusations flew and Adrienne Maloof and Lisa Vanderpump faced off.
The third season of The Real Housewives of Beverly Hills is expected to premiere this fall on Bravo.