Exclusive
Dr. Conrad Murray Loses A Lawyer Amid Internal Bickering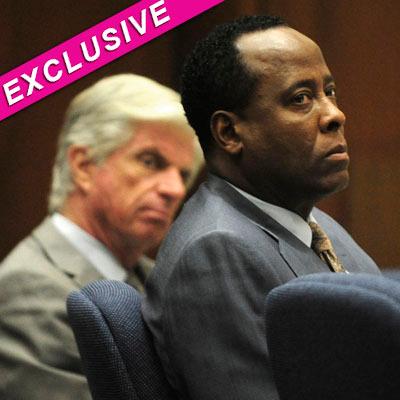 Dr. Conrad Murray and one of his lawyers, Michael Flanagan have parted ways, RadarOnline.com is exclusively reporting.
The cardiologist was convicted of involuntary manslaughter on Monday, in connection with the death of his former patient, pop superstar Michael Jackson. Los Angeles Judge Michael Pastor remanded Dr. Murray into custody, citing security concerns, immediately after the jury delivered the verdict.
Article continues below advertisement
Ed Chernoff, Dr. Murray's lead attorney, says they plan on appealing the verdict, but they will be doing now without one of their original team.
"Michael Flanagan wants absolutely nothing to deal with the appeal. He will most likely be at the sentencing, but after that, his work on the case is essentially over," a source close to the situation tells RadarOnline.com. "Ed and Michael aren't even talking to each other right now, and that has been the status quo for at the past two weeks,".
As RadarOnline.com previously reported, Chernoff, Dr. Murray's lead attorney, is from Houston, Texas and had been staying with Flanagan to save his client money. However, Ed moved out from Flanagan's posh digs in San Marino, just two weeks into the trial.
"Ed didn't like the way Michael was handling the prosecution witnesses. Ed felt that Michael was too abrasive and caustic with his questioning and that Michael allowed witnesses to clarify points that only helped the prosecution's case. Things were getting very tense and he's moved into a hotel in Santa Monica," an insider told RadarOnline.com about the sudden move.
Article continues below advertisement
Another source of strife between the former legal buddies was Flanagan's decision to order a study be done on Beagle dogs. The beagles were given propofol, to try to back up the defense's claim that Michael Jackson died at his own hand after drinking the powerful anesthetic.
"It just didn't make any sense to Ed that Michael would have a study conducted on the dogs. How are dogs and humans the same, if the defense were going to pursue that theory at trial? The D.A. actually had volunteers, including Dr. Shafer drink propofol, and their test concluded that dying from drinking propofol was nearly impossible," the insider tells RadarOnline.com.
After RadarOnline.com's exclusive report about the pooches being given propofol, animal rights group PETA demanded a federal investigation.
Read PETA's Letter To The USDA Demanding A Full Investigation
PETA (the People for the Ethical Treatment of Animals organization) filed a complaint with the U.S. Department of Agriculture (USDA) alleging "cruel drug toxicity tests on beagles commissioned by the defense team of Dr. Conrad Murray, the physician now on trial for his alleged role in Michael Jackson's death.
Article continues below advertisement
"PETA asserts that if attorneys from Flanagan, Unger, Grover & McCool did commission the tests for the drug propofol -- the toxic effects of which have been extensively studied in dogs and humans -- those tests were likely conducted in violation of the federal Animal Welfare Act's prohibition against tests on animals that duplicate previous experiments. PETA has filed a complaint with the State Bar of California as well."
Flanagan's fate was finally sealed however when he decided to go on a media blitz after Dr. Murray was convicted on Monday.
Page Six reported that Flanagan was picked up at the courthouse by a chauffeur to take him on a first class flight to New York City to appear on The Today Show. Flanagan appeared on The Today Show during the third hour, for approximately 30 seconds.
Dr. Murray will be sentenced on Tuesday, November 29.