Dr. Conrad Murray Found Guilty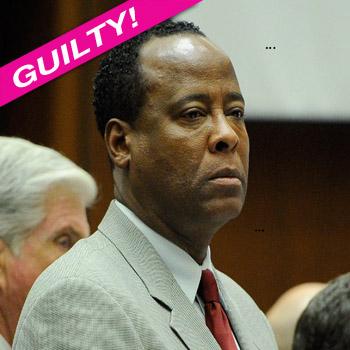 By Amber Goodhand - RadarOnline.com Reporter
Dr. Conrad Murray has been found guilty of involuntary manslaughter in the Michael Jackson death trial.
After nearly 10 hours of deliberation, the verdict was delivered in a downtown Los Angeles courthouse by court clerk Mrs. Benson on Monday afternoon.
"We the jury...find the defendant guilty of involuntary manslaughter," she announced.
Jackson's family — including mother Katherine Jackson, father Joe Jackson and siblings LaToya Jackson, Jermaine Jackson, Randy Jackson and Rebbie Jackson — were in the courthouse and exploded with emotion as the verdict was read.
Article continues below advertisement
Randy has his arm around his mother the whole time, rubbing her shoulder, while Rebbie kept her head down awaiting the verdict.
However, Dr. Murray remained emotionless and stone-faced as the verdict was read.
RadarOnline.com was in the courthouse where approximately 15 Los Angeles Sheriff Department deputies were on hand to make sure things did not get out of control after the verdict was read.
Judge Michael Pastor reminded all those involved in the case that until now they'd been "admonished" to silence regarding the case, but they are now free to talk.
"From now on, you have the absolute right either to discuss or not to discuss anything about this case with anyone else," the judge said.
"The decision is yours and yours alone."
But Judge Pastor reminded everyone that under California law, they must wait 90 days before negotiating or receiving any payment for their stories.
Michael Jackson died on June 25, 2009, of acute Propofol intoxication. Dr. Murray admitted to cops that he had given the King of Pop Propofol every night for approximately two months, leading up to Jackson's tragic death.
Article continues below advertisement
Dr. Murray was remanded into custody of the Sheriff's Department without bail. "I love you," he mouthed to girlfriend Nicole Alvarez as he was led out of the courtroom.
"Throughout this trial Dr. Murray was presumed innocent... Dr. Murray has been convicted of a felony by the jury," Judge Pastor said.
"The jury has found beyond a reasonable doubt, unanimously..."
As RadarOnline.com previously reported, Dr. Murray will remain in custody until his November 29 sentencing.