Jermaine Jackson Tells Ellen: 'Michael Wasn't An Addict'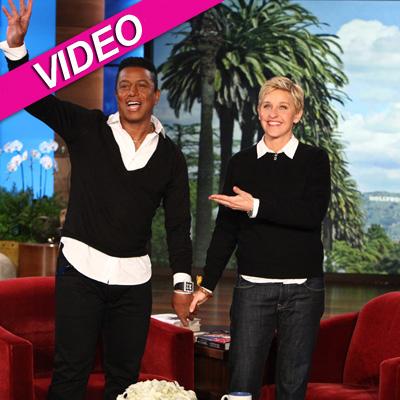 Jermaine Jackson tells Ellen DeGeneres on Wednesday's edition of Ellen his late brother Michael "wasn't addicted" to drugs.
The 56-year-old conceded that "there was an addiction to Demerol in 2001 in … the early 2000s, but that was because of pain. Even during the autopsy report, there was no addiction to any of that.
"Michael just wanted to sleep -- he did not want to die.
Jermaine put the blame of Michael's medical issues squarely on the shoulders of Dr. Conrad Murray, who was convicted of involuntary manslaughter Monday in Jackson's June 2009 death at 50. (Murray faces up to four years in prison, as well as losing his medical license, when he is sentenced on November 29.)
Article continues below advertisement
"He trusted the doctor and the negligence and everything ... it's really sad because we lost an incredible person. To see and hear the verdict -- my mother cried, and we consoled her, and the fans were cheering and everything but it's not bringing Michael back. We lost a brother."
The family has been outspoken in the wake of Murray's conviction: mother Katherine said she can finally "feel better," while father Joe said that "justice was done."
Watch the video on RadarOnline.com
As for Jermaine, while he was content with the conviction, he said he felt the "the sentencing maximum was very soft ... to give him two years for taking a life. Forget about Michael Jackson, but taking anyone's life.
"But it happens to be my brother who loved the world and loved people and did so much for the world," Jermaine said. "He cared about people, human beings, children."