Dr. Conrad Murray On Suicide Watch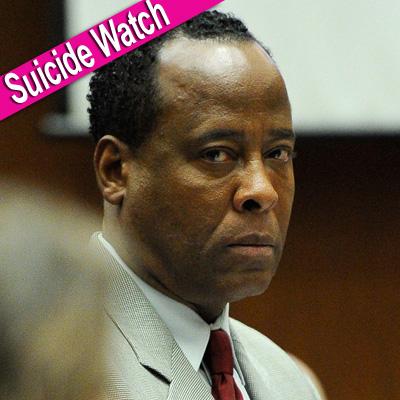 Dr. Conrad Murray has been placed on suicide watch -- but just as a precaution.
The Houston-based cardiologist was remanded in custody Monday after being found guilty of involuntary manslaughter in the June, 2009 death of pop superstar Michael Jackson. Now, an unnamed law enforcement official tells the Los Angeles Times that staff were told to ensure Murray does not try to take his own life at the Los Angeles County Jail.
Article continues below advertisement
An attorney for Murray confirmed on Good Morning America on Tuesday that Murray is on suicide watch, but said it's more of a precaution, and that the physician had not threatened to harm himself in any way.
In addition, Murray has been deemed a "keep away inmate", meaning jail officials will take special precautions to keep him safe, including giving him a single cell for his own protection.
Murray will also reportedly be assigned an "escort" to accompany him wherever he goes -- including to the shower -- and he will not be allowed to mingle with other inmates.
Murray -- who lost his medical license as a result of the court ruling -- will be sentenced on November 29 and faces a maximum of four years in prison.
Superior Court judge Michael Pastor cited "public safety" as the reason why he has been detained until his next court appearance.
He explained: "Public safety demands that he is remanded. With no bail in the interim he is to be kept in the care and custody of the Los Angeles County Sherriff's Office."