Exclusive
NBC Universal Paid $300k For Dr. Conrad Murray Documentary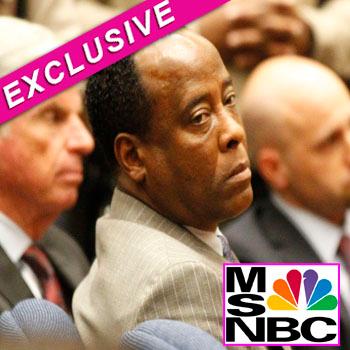 By Jen Heger - RadarOnline.com Legal Editor
NBC Universal paid $300k for a documentary featuring Dr. Conrad Murray discussing the death of his former patient, Michael Jackson, that is going to be broadcast on MSNBC on Friday night, RadarOnline.com is exclusively reporting.
Murray was found guilty of the involuntary manslaughter of Jackson on Monday, he is currently in custody awaiting sentencing.
"NBC Universal paid the production company approximately $300k for the right to air the documentary," an insider tells RadarOnline.com exclusively. "Much of that money will go to pay Dr. Murray's lawyers, Ed Chernoff, Michael Flanagan, and Nareg Gourjian. If there is any money left over, it will go to Dr. Murray's current girlfriend and mother of their son, Nicole Alvarez. Dr. Murray will not directly profit from the sale of the documentary."
Article continues below advertisement
As RadarOnline.com previously reported, the executors of Michael Jackson's Estate, John Branca and John McClain fired off a letter to NBC expressing their outrage about the documentary.
The letter states: "No sooner was Conrad Murray ordered led away in handcuffs after his conviction on manslaughter charges in the death of Michael Jackson than we discovered your MSNBC network inexplicably will showcase him in primetime Friday night as if he is worthy of celebrity.
DOCUMENT: Michael Jackson Estate Fire Off Blistering Letter Over Conrad Murray Documentary
"Dr. Murray's victim, Michael Jackson was a loving father, an incredible talent and someone who had much left to give the world. Dr. Murray is a convicted felon who a judge felt compelled to have placed in handcuffs and jailed immediately after the jury delivered its verdict. He is not someone NBC Universal should be giving a platform on a prime-time pedestal. We demand that you exercise proper judgment and refrain from airing this program."
Article continues below advertisement