Exclusive
Conrad Murray Filming Documentary While Waiting For Verdict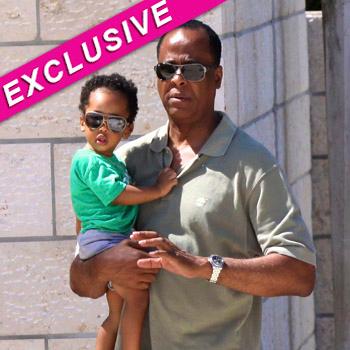 By Jen Heger - Radar Legal Editor
As Dr. Conrad Murray's fate is being determined by a jury, the embattled cardiologist is being interviewed by documentary filmmakers that have been working on the untitled project since he was charged with involuntary manslaughter in connection with the death of Michael Jackson, RadarOnline.com is exclusively reporting.
Dr. Murray is hunkered down with his girlfriend and baby mama, Nicole Alvarez, friends, and a film crew, while a jury decides if he is guilty or not guilty of killing Michael Jackson.
Article continues below advertisement
"The film crew has been interviewing Dr. Murray all morning, and cameras will be rolling when he is notified by his attorney, Ed Chernoff, that a verdict has been reached. Dr. Murray gave a one hour interview last night, after court ended. Dr. Murray will probably have a camera crew in the car with him when he goes to the courthouse when a verdict is formally announced. The film crew would potentially be filming Dr. Murray's final moments of freedom" a source close to the doctor tells us.
As RadarOnline.com previously reported, Dr. Murray needs the money from the documentary to pay his lawyers and experts. "Dr. Murray and his lawyers were hoping it would sell for a million bucks, but it looks like the max a network would pay is around 250k. If Dr. Murray is convicted, that price could go up or down. Murray's reps are trying to get the deal made before a verdict is rendered," an insider tells us.
Article continues below advertisement
Dr. Murray "was very, very upset with the DA for not referring to him as a doctor during his closing arguments. Dr. Murray felt that was a low blow, and he was very, very disappointed, and angry that he has been demeaned during this whole process," the source reveals.
Our sources tell us that Dateline NBC has expressed interest in airing the documentary, but no deal has formally been agreed upon yet.
Dr. Conrad Murray Trying To Sell 'Documentary'