What's Next For Arnold Schwarzenegger?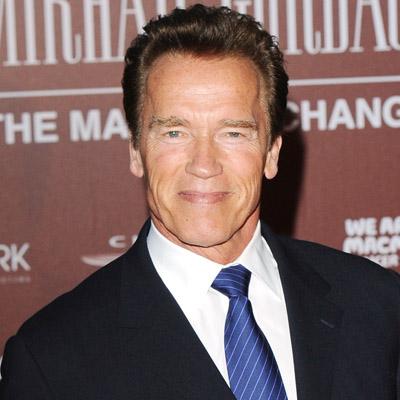 With his governorship over -- and his marriage looking to be headed in that direction as well -- it's time to pose the question: What's next for Arnold Schwarzenegger?
Prior to Schwarzenegger, 63, admitting he'd fathered a child out-of-wedlock, he seemed to be headed back to the silver screen after leaving his two-term stint as California governor earlier this year.
His plans were said to include a return to acting, as iMDb lists two films he's involved with currently in the pre-production phase: The Last Stand and Cry Macho.
Article continues below advertisement
Just last week, producers were bidding heavily on a package that would include the right to two sequels to the Terminator, which he was reportedly involved in (Annapura Pictures' Megan Ellison won).
Schwarzenegger's also been linked to ongoing work as a spokesman for green energy and a possible run at the presidency of European Union.
So how have other A-listers braved the storm of cheating scandals? Let's take a gander:
Mel Gibson: After a string of scandals -- a racist rant, a pregnant mistress, a divorce of his longtime wife, and of course, our world exclusive tapes of his verbal rampage -- the once-respected actor's career is all but over. His most recent film, The Beaver, drew an awful $4,745 per screen in its' first weekend in a limited run at the box office. To put it in perspective, his pre-scandal The Passion opened to a per-screen average of $27,554 its' first weekend.
Article continues below advertisement
Hugh Grant: The hunky Englishman -- who was dating British model Elizabeth Hurley at the time -- was arrested on Los Angeles' Sunset Boulevard in 1995, in the midst of a sex act with streetwalker Divine Brown. He managed to salvage his relationship with Hurley (though they'd break up five years later) and the public, with an appearance on The Tonight Show with Jay Leno shortly after the scandal broke. "I think you know in life what's a good thing to do and what's a bad thing," Grant said, "and I did a bad thing. And there you have it."
Woody Allen: The neurotic New Yorker received plenty of criticism in 1992 for two-timing longtime lover Mia Farrow with his 22-year-old adopted daughter, Soon-Yi Previn. (He said in his defense, "The heart wants what it wants.") Luckily for Woody, audiences didn't seem to care about his bizarre behavior -- considering the source, many might have expected it -- as he's continued directing hit movies for the past two decades.
Article continues below advertisement