Stassi Schroeder's Drunken Fight With Boyfriend Beau Explodes in Mexico: 'I Feel Battered!'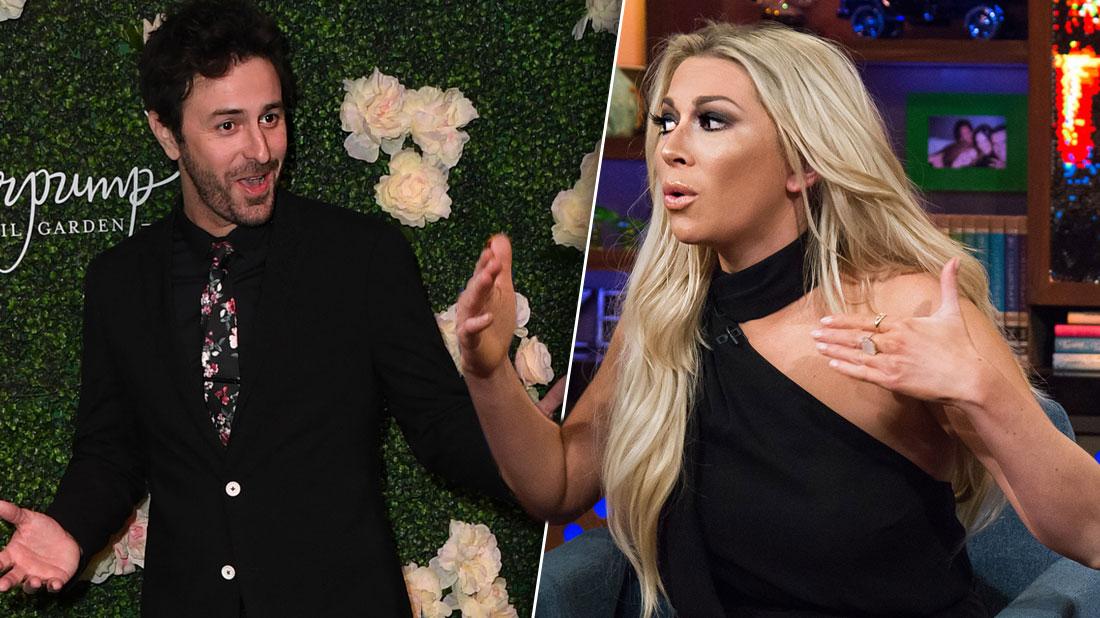 Stassi Schroder may be confused about her relationship. On the latest episode of Vanderpump Rules, the star gushed over boyfriend Beau Clark before getting into an explosive fight with him during a group vacation to Mexico!
"This is the first trip I've been on where I had a boyfriend that wanted to come with me," she confessed.
All was well until the two parted ways. As the girls decided to go skinny-dipping in the ocean, the guys went to the bar to drink; it was then that Stassi and Beau had their first fight.
Article continues below advertisement
"You have FOMO," she told him (Fear of Missing Out!) when he wanted to booze it up with the dudes.
"I want to skip skinny-dipping and just go to bed," she told him, but she eventually made it down to the water where most of the girls stripped down — except Ariana Madix.
"I'm down with being naked and I'm down with getting in the ocean I'm not down with being naked in the ocean. You don't know what kind of weird fish can swim up in some unprotected crevice," she said.
Meanwhile, Beau rushed back to the boys and complained about his lady.
"She's just drunk and being a brat and she's yelling at me," Beau told the guys. Jax Taylor sympathized.
"I've been there with her. I've dated her when she's like this."
Then, the guys offered up their treatment for FOMO.
Sex Tapes, Lies & More! 'Vanderpump Rules' Dirtiest Secrets EXPOSED
"Tequila can help," Tom Schwartz said in a hilarious montage. "Tequila is the medication used to treat FOMO and ease symptoms."
Article continues below advertisement
"However, tequila is not for everyone," Tom Sandoval said. "Tequila side effects may include memory loss, broken cell phones, stumbling, crying, getting horrible tattoos, embarrassing dance moves, regretful make outs and full-blown melt downs."
"FOMO hurts, but tequila can help," Schwartz said.
The next day, the group rode ATVs and played in a gorgeous water fall where Taylor dropped a bombshell on Schroeder.
"I just want you to know I still have feelings for you," he said, evidently joking.
"You're so f**king lame," she said, laughing.
But then he got serious.
"Are you done yelling at Beau?" he asked.
"No. Listen, you gotta keep your boyfriends down. You gotta keep 'em right here," she joked.
"Not Beau," Taylor told her. "Beau is a good one, man. You've got a gem."
Schroeder was stunned. "You're giving me advice right now, which is f**king hysterical," she said.
Article continues below advertisement
Taylor then explained why he thought she should be nicer to Clark.
"You've dated some sh*t guys in your life. Listen, I'm just saying, cut the guy some slack. Patrick deserves that. Frank deserves that," Taylor said about her ex-boyfriends. "I deserve that. But Beau does not deserve that."
In his confessional, Taylor bro'd out.
"I don't think Stassi realizes how lucky she is to have Beau," he said. "He is probably one of the nicest guys I've ever met."
"Honestly, I have a little bit of a man crush on him," he told Schroeder. "So just loosen up a little. Be nice. Pick and choose your battles. You know absences makes the heart grow fonder, sometimes it's nice to let your man go out and do his thing."
Schroeder couldn't argue with his words.
"After 10 years of Jax acting like a caveman on spring break, now he's waxing poetic? And, I hate saying this, but he's not wrong," she said in her confessional.
Article continues below advertisement
But after one too many cocktails that night Schroeder started fighting with her man once again.
It all began when she refused to go dance on stage with the rest of the girls because she was wearing a "Maxi dress with Spanx on," and Clark pushed her to relax.
"We're here in Mexico to have fun. Don't just sit there. This is the whole point of the vacation," he said.
"You're taking the fun out of it for me," she told him. "Now it's like I have to pull myself out of this bad mood. I was having fun and now I'm not."
Their fight continued in their hotel room when he wanted to stay out partying and she did not.
"I know Beau, I know he'd rather be out drinking with the guys. But no, he's here in bed but he doesn't want to be, like he's my fricking prisoner. I want him to want to be my prisoner," she said in her confessional.
"Why are you acting so miserable," Schroeder asked him, and he teared up telling her how bad he felt.
Article continues below advertisement
"You can't talk to me this way," Clark said choking up. "You wanted me to be with you. You want me to put my heart with your friends and your job and I did it. It drives me crazy. I feel battered."
"How do you feel battered? Do you feel battered for a while?" she asked. "That is so unfair."
Clark tried to explain more.
"You have this thought that all I want to do is go out and not be with you. It's like this abandoned child thing. When have I abandoned you?" he asked.
"Normal well-adjusted boyfriends don't stay out until five in the morning getting sh*t faced," she said in her confessional.
"I don't want to be with someone that at 3 in the morning wants to f**king go still party," she screamed at him. "I'm not gonna go to sleep alone. I'm not. I don't want to."
Clark tried to calm her down. "I am sorry, for my first time in my relationship life I know that the way I am to you I am so f**king solid gold," he told her.
Article continues below advertisement
"It's massively frustrating to have your girlfriend think you're going to cheat on her when you've done nothing for her to think that will happen," he continued.
And he told her how much he loved her, while crying.
"I f**king worship you. You are my heart. You are my future. Don't treat me like this. I'm not f**king Jax or Patrick," he said.
She told him that her parents' divorces were a contributing factor to her bad relationships.
"I can't be f**ked over again," Schroeder said through tears.
"You have some dark sh*t that you need to get out, but you're putting it on me, and I don't deserve it," Clark told her.
All that was hard for Schroeder to accept.
"Just because you're with somebody who you know in your brain and your heart isn't going to hurt you, it doesn't mean that all of the past things that have happened don't count anymore," she said.
Article continues below advertisement
"You need to figure out your sh*t out," Clark warned her. "How are we going to have a future if you don't f**king trust me?"
Schwartz and Katie Maloney had the opposite situation, they made up after their vicious fight when they arrived.
Jax earned the wrath of Kristen Doute when he said he still believed that she and James Kennedy had sex the last time they were in Mexico.
Scheana Marie was upset that her boyfriend Adam Scott wasn't responding to her text message of her booty.
And Lala Kent had a heartfelt conversation with Ariana Madix about her anger since her father had died.
"I've seen Lala really lashing out with the passing of her dad. As much as I can understand where she's coming from it's not ok to hurt people when you're hurt," Madix said in her confessional.
"It makes sense what you're saying," Kent said, but defended herself. "You can't be an a**hole and not expect me to be an a**hole yet."
Kent continued: "I know that the way I've been acting and talking is rude but guess what? I'm not sorry."
Stay with RadarOnline.com for weekly recaps of Vanderpump Rules.