Carter Blames Stassi & Katie For Troubles With Kristen: 'Y'all Are Very Nasty'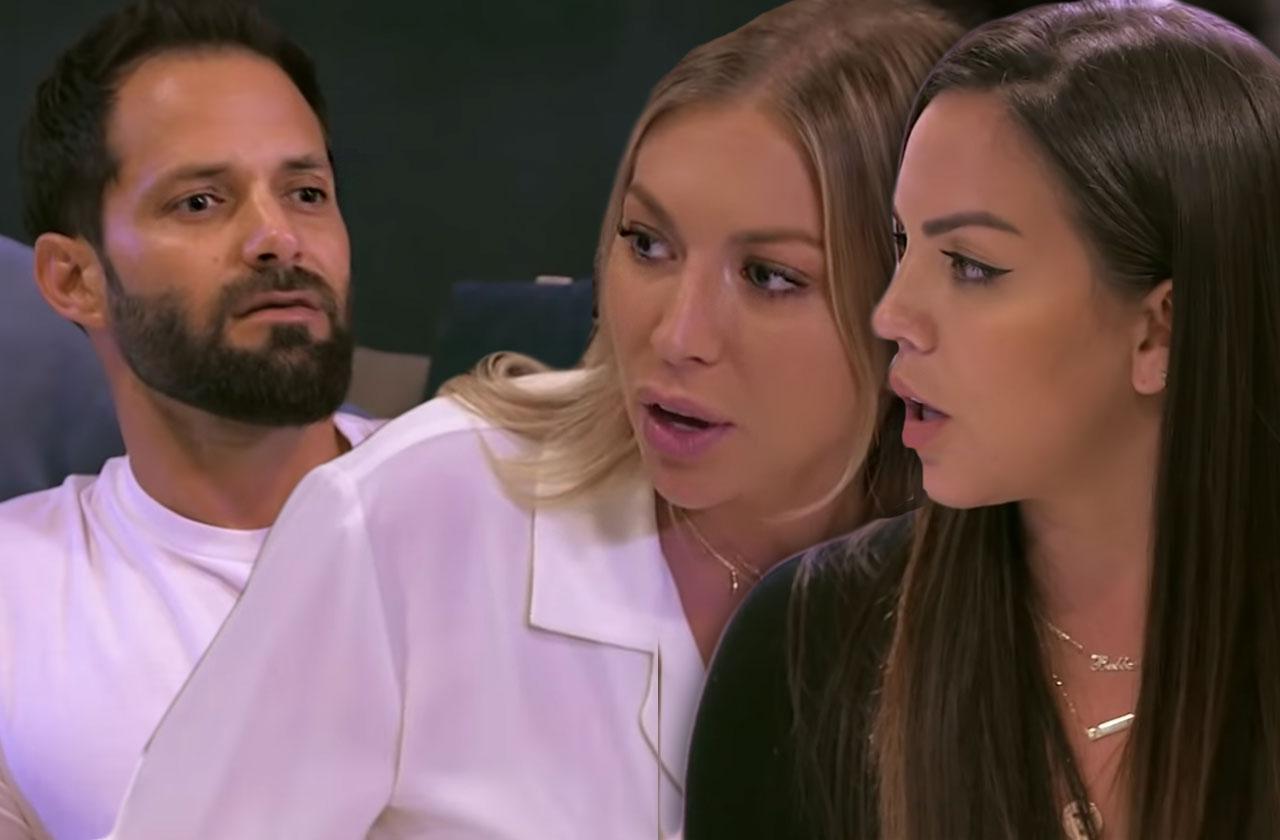 Kristen Doute went off on Stassi Schroeder and Katie Maloney on the latest episode of Vanderpump Rules, slamming the witches of Weho as they continued to meddle in her broken relationship with Brian Carter.
After the disastrous wine tasting trip, Stassi filled Lisa Vanderpump in on the girl drama.
"Kristen turns into Satan when she's on vacation. She's struggling in her relationship," she said.
But Lisa had a different take on the situation, saying: "I'm sorry it's not working with Carter, he's been a stabling influence on her."
Article continues below advertisement
"The only difference between me and Kristen is she's older than me and she should know better," Stassi said in her confessional. "I'm so freaking lucky to have found a guy like Beau who has been taught and trained his whole life to deal with psychos like me."
Beau's mother Iza came into town, and after he and Stassi convinced her they were in love, she offered to lead a relationship summit for all the show couples at Kristen and Carter's house.
Carter finally confronted Stassi and Katie Maloney, telling them he didn't understand why they were "bad mouthing" him, but they got defensive.
"Look me in the eye and tell me you guys are in an awesome relationship," Katie demanded.
"We have been together for almost three years, we went through a little rough patch," Carter said.
Katie told him she was tired of hearing how Kristen was "so miserable for so long for the way you treat her."
Article continues below advertisement
"You know why she comes home and we get in fights?" Carter asked Stassi and Katie. "Because you guys are f**king d*cks to her. You're rude," he added, and the women were insulted.
"Because you guys are scary," he told them. "When she comes home after hanging out with you, yes, we get in arguments because y'all are very nasty."
Kristen tried to get her friends to stop fighting with her boyfriend. "Just be there for me, don't be there for the demise of my relationship," she said in her confessional.
But Katie had enough. "Go f**k yourself," she told Carter as Kristen tried to sage the apartment and calm everyone down.
"Kristen has spent the first 35 years of her life in a blind drunken rage. Then she meets Beau's mom ad she's Mahatma Gandhi? Give me a break," Stassi said before she and Katie left the party.
In other news, LaLa Kent's breakup with Randall Emmett was very short-lived — 17 hours to be exact.
Article continues below advertisement
When James Kennedy found out the two had split up, he wasn't surprised.
"78-year-old boring fat Hollywood producer breaks up with 26-year-old wannabe actress? I'm so surprised that happened. 24 red roses and a couple of Chanel bags," James said sarcastically.
"I'm just an emotional person now," Lala said. "When I saw him living his best life after I didn't drink at wine tasting, f**k you!"
But in the end, they worked it out.
"He did feel really badly, and he took my Gucci slides but he gave them back to me," she said while wearing the shoes.
Lala described their wild, sex and money-fueled relationship.
"I let him hit it the first night and we were inseparable. He would just send me really expensive gifts," she said. "The first night we banged I got a car the next day. He was like 'Want a Range Rover?' and I was like 'Yeah.'"
A stunned Stassi was almost speechless after hearing Lala's story.
"Is your vagina made from sparkles?" she asked.
"I don't know," a cheerful Lala responded.
Stay with RadarOnline.com for weekly recaps of Vanderpump Rules.
We pay for juicy info! Do you have a story for RadarOnline.com? Email us at tips@radaronline.com, or call us at (866) ON-RADAR (667-2327) any time, day or night.